Let's get real: nobody likes an outdated kitchen, especially when you're trying to sell or flip a property. But with the whirlwind of trends and technologies out there, how do you even begin to modernize?
Here's the kicker: it's possible to transform your kitchen into a trendsetting, eco-friendly, and smart hub. And it's not just for tech geeks or the environmental conscious; it's for everyone (especially if you like saving money). The trends of 2023 and 2024 are blazing in, and you can't afford to be left behind.
Hold on, though, I bet you're asking:
What color schemes will make your kitchen pop in 2023?
How do smart appliances actually improve your cooking game?
Can energy-efficient appliances also be aesthetically pleasing?
What kitchen sink trends are more than just wash, rinse, repeat?
Are there any lighting trends that actually improve functionality?
Stick around, because we're revealing insider secrets that will catapult your kitchen into the future.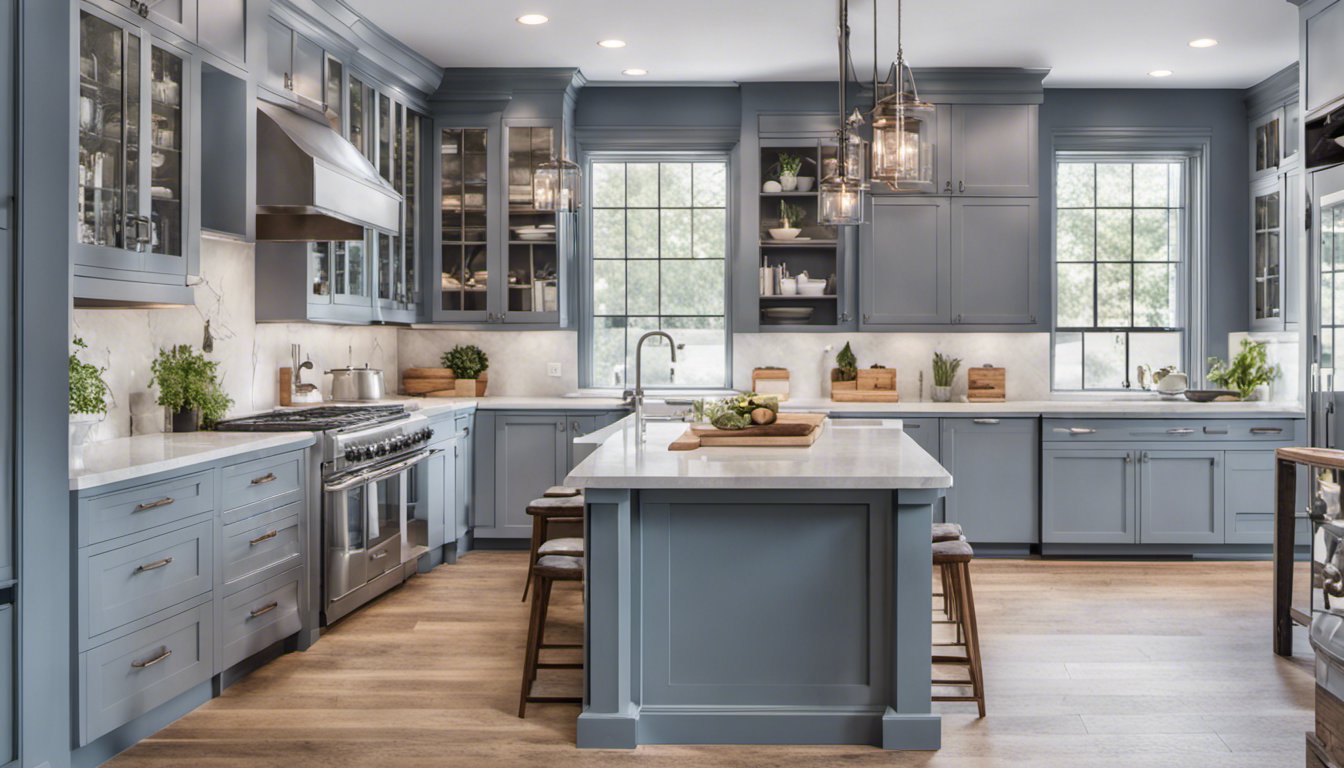 2023 Kitchen Remodeling Trends
Ready to give your kitchen a makeover? The heart of the home is constantly evolving, and staying on top of the latest trends can breathe new life into your space. Let's dive into the key trends in kitchen design for 2023 and what to expect for 2024.
Key Trends in Kitchen Design 2023
2023 brings a variety of exciting and innovative trends for homeowners and design enthusiasts. Some highlights include:
Statement lighting: Creative lighting solutions are all the rage in 2023. Unique pendant lights and bold fixtures will provide a striking focal point in your kitchen.
Creative cabinetry: Say goodbye to plain white or wood cabinets. Expect to see vibrant colors like blues, greens, mauves, and even saffron making an appearance.
Countertop materials: Quartz and butcher block countertops are trending for their durability and natural aesthetic, offering a sleek yet practical surface. Granite might be taking a backseat in 2023.
Tailor-made storage: Customized storage is becoming increasingly popular. Cabinets designed to fit your unique needs will help maximize organization and keep your space clutter-free.
Remember, the key is to choose trends that suit your style and your kitchen's functionality. Don't be afraid to mix and match various elements for a truly unique design.
2024 Forecasted Kitchen Trends
While the future is never certain, some trends are predicted to grow stronger in 2024:
Sustainability: Eco-friendly materials, energy-efficient appliances, and low-emissivity windows will likely pave the way for kitchens of the future.
Smart technology: Voice-controlled devices, hands-free faucets, and connected appliances are expected to become more prominent as smart kitchens continue to develop.
Flexible designs: Open-concept layouts, movable islands, and multipurpose furniture will help create versatile spaces that cater to changing needs and lifestyles.
By staying informed about upcoming trends, you'll be able to keep your kitchen looking fresh and current. Remember, at the end of the day, the best design is one that reflects your personal taste and meets your functional needs. So, whether you're planning a full remodel or simply want to update a few aspects of your kitchen, there is plenty of inspiration for creating the perfect space in 2023 and beyond.
Key Elements in Modern Kitchen Remodels
Are you tired of your outdated kitchen? Ready to breathe new life into the heart of your home? Keep reading to discover the latest trends in kitchen remodeling that will elevate both the aesthetics and functionality for years to come.
Kitchen Island Design Trends
Gone are the days of simple, rectangular kitchen islands. Modern kitchen islands are now designed to be both practical and visually stunning, with features like waterfall countertops and integrated LED lighting. Popular design options for 2023 and 2024 include:
Curved Islands: For a sleek and smooth look, many homeowners are opting for curved edges on their islands, creating a more welcoming and organic atmosphere.
Multi-level Islands: By incorporating different heights into the island, you can designate separate zones for prep work, dining, and entertaining.
Bold Colors: Add a pop of personality to your kitchen by choosing a contrasting color for your island, like deep navy or emerald green.
Trends in Kitchen Cabinetry and Storage
A modern kitchen remodel isn't just about looks – it's also about maximizing your storage space. Some of the top trends in cabinetry and storage for 2023 and 2024 are:
Floor-to-ceiling cabinetry: This not only creates ample storage but also draws the eye upward, making your kitchen appear larger.
Open shelving: Showcase your dishware and décor while maintaining a contemporary, airy feel.
Custom organization solutions: Tailor-made storage ensures that everything has a place, minimizing clutter and promoting efficiency in the kitchen.
Choosing Countertops and Backsplashes
Countertops and backsplashes play a crucial role in the overall aesthetic of your kitchen. 2023 and 2024 are all about bold, eye-catching materials, such as:
Quartz: With its durability and wide array of colors and patterns, quartz is quickly surpassing granite as the go-to countertop material.
Terrazzo: This composite material, made of chips of glass, stone, and other materials, creates a unique, chic look that's gaining popularity.
Statement backsplash: Opt for a patterned or larger-scale tile to make your backsplash the focal point of your kitchen.
The Role of Windows and Natural Light
Let the sunshine in! Incorporating windows and natural light is a significant trend in modern kitchen remodels. Here are some popular ways to integrate windows in your kitchen:
Large picture windows: Adding an expansive window can make your space feel brighter and more inviting, all while giving you a great view.
Skylights: Placing skylights above your kitchen can provide ample natural light while maintaining the space's clean and modern lines.
Low-E windows: According to the NKBA's 2023 Design Trends report, low-emissivity (Low-E) windows and doors are among the top three kitchen sustainability trends, helping you save energy and money.
As you update your kitchen with these modern trends, you'll not only enhance its style but also improve its functionality. Get ready to cook up a masterpiece. The next section will show you the essential appliances to make your dream kitchen complete!
Materials and Colors for 2023-2024 Kitchens
As you're getting ready to refresh your kitchen space, there's never been a better time to explore fresh materials and colors will be dominating the next couple of years. Ready to take the leap? Let's dive into the latest trends in countertops, cabinet colors, and kitchen wallpaper and paint, with an emphasis on beautiful and unique design choices.
Popular Countertop Choices
When it comes to countertops, natural stone creates a luxurious and timeless look that homeowners adore. Here are the most popular options:
Quartz: As an engineered material made from crushed natural stone and resin, quartz offers durability, stain-resistance, and easy maintenance. Plus, its consistent color and texture allow for seamless integration with many design styles.
Granite: A classic choice, granite provides a high-end appearance with its natural variation in veining and color. Make sure to seal it properly to prevent staining.
Marble: Known for its elegant veining, marble adds a sophisticated touch to any kitchen. Be mindful of its porous nature, which may require more upkeep and regular sealing.
Quartzite: A lesser-known but striking option, quartzite is a crystalline rock that's harder than granite and requires less sealing. Its unique patterning will surely catch your guests' eye.
Trends in Cabinet Colors
Gone are the days of boring, monochromatic cabinet colors. These days, it's all about making a statement with your kitchen cabinetry. Here are some trending cabinet colors to think about:
High contrast: Opt for dark, rich hues, like navy, black, or deep green, paired with lighter countertops and backsplashes.
Wood paneling: Embrace the warmth and texture of natural wood by incorporating wood paneling or wood cabinetry into your design.
Bold colors: Don't be afraid to experiment with pops of color like cherry red or olive green to create a more personalized cooking space.
Kitchen Wallpaper and Paint Trends
Your kitchen walls shouldn't be left out as you give your space a fresh update. Consider the following kitchen wallpaper and paint trends for 2023-2024:
Bold geometrics: Choose eye-catching geometric patterns to bring an element of energy and fun to your kitchen.
Nature-inspired: Liven up your cooking space with botanical or floral prints, painting your walls in earthy tones or incorporating natural elements for a calming ambiance.
Metallic accents: Add a touch of glamour to your kitchen with metallic wallpapers or a hint of shimmering paint along the trim or ceiling.
As you embark on your kitchen remodeling project, stay true to your personal taste and let these trends guide you in creating a bold, beautiful space that will remain stylish for years to come. Now that you've got a grasp on the materials and colors, let's move on to the next crucial aspect of kitchen design: layout and functionality.
Smart and Eco-Friendly Kitchen Trends
It's time to transform your kitchen into a sleek, smart, and eco-friendly space, making it not only stylish but also functional and sustainable. In this section, we'll explore innovative green practices and cutting-edge smart appliances that'll turn your kitchen into a modern haven. Let's dive in!
Green and Sustainable Kitchen Practices
More and more homeowners are prioritizing sustainability and eco-friendly materials as part of the green movement. To join the cause, embrace the following green practices in your kitchen:
Choose sustainable countertops: Consider using materials like recycled glass, reclaimed wood, or bamboo. These eco-friendly options help reduce waste and the depletion of natural resources.
Energy-efficient appliances: Look for appliances with an Energy Star rating, which consume less electricity, saving you money and reducing energy consumption.
Low-emission windows and doors: As mentioned in a Better Homes & Gardens article, low-E windows and doors can reduce heat transfer while maintaining natural light, helping improve your home's overall energy efficiency.
Let's not forget about smart appliances that help combat waste and increase environmental consciousness.
Smart Appliances and Tech in the Kitchen
By integrating smart appliances and technology throughout your kitchen, you'll have better control and access to various aspects of your home, making it more efficient, reliable, and enjoyable. Some of the technologies you can incorporate include:
WiFi-connected appliances: Ranging from your refrigerator to oven, these devices can be controlled remotely with your smartphone and provide alerts or information to help you optimize their use.
Smart lighting: Control your kitchen's lighting with automated systems that adjust intensity and color based on the time of day or your preferences.
Here's a list of smart appliances that are definitely worth considering:
Smart ovens that can be preheated remotely, so dinner is ready when you arrive home.
A smart refrigerator that monitors groceries and suggests recipes based on what's available.
Automated coffee makers that start brewing your morning cup before you even get out of bed.
I remember my first encounter with a smart appliance – a voice-activated assistant I received as a gift. It quickly became an indispensable tool in my kitchen for hands-free timers, recipe recommendations, and more. Now I can't imagine cooking without it!
Elevating your kitchen with smart and eco-friendly trends not only adds a touch of modern aesthetics but also improves your daily life while reducing your ecological footprint. By carefully selecting sustainable materials and integrating cutting-edge technology, you're on your way to a smarter and greener kitchen.
Appliances and Fixtures for Future Kitchens
Are you tired of outdated kitchens? Brace yourself for a modern, sleek, and functional kitchen of the future. Let's dive right in and explore the upcoming trends in kitchen appliances, fixtures, faucets, and knobs.
Popular Kitchen Appliance Trends
In 2023 and 2024, you can expect to see smart appliances become more prevalent in modern kitchens. With increasing concerns about sustainability, energy-saving appliances like induction cookers will make their way into the mainstream market, helping to lower energy costs and reduce carbon footprints. Also, watch out for customizable appliances with fashionable finishes for a personalized touch to your kitchen design.
Choosing Faucets and Knobs
Whether you're a homeowner, investor, or a DIY enthusiast, it's important to choose faucets and knobs that complement your kitchen's overall look. Natural elements and earthy tones are making a comeback. Here's a brief list of features to consider when choosing faucets and knobs:
Durability: Invest in high-quality, long-lasting materials.
Functionality: Opt for faucets with practical features like pull-out sprayers or touchless technology.
Design: Select knobs that accentuate the style and color scheme of your kitchen.
Remember, keeping up with emerging trends while considering practical aspects will make a difference in your kitchen remodel.
Lighting Trends in Kitchen Design
A well-lit kitchen is not only functional but also visually appealing. Here are some of the lighting trends that you can expect to see in 2023 and 2024:
Smart lighting: Control your lights with the touch of a button or using voice commands.
LED lights: Energy-efficient, long-lasting, and available in various color temperatures.
Pendant lighting: A stylish way to illuminate your kitchen island, adding a cozy atmosphere.
Taking inspiration from the latest trends will help in creating a future-proof kitchen design with the perfect balance of aesthetics and functionality. As you prepare for your kitchen renovation, remember to keep these trends in mind so you can create a space that meets your needs and reflects your personal style. Now, let's move on to discuss other aspects of future kitchen design, because there's so much more to explore!
Frequently Asked Questions
Are you excited about revamping your kitchen, but feeling overwhelmed with design decisions? Don't worry, we've got you covered. Check out these frequently asked questions on trendy kitchen remodeling ideas for 2023 and 2024.
What are the latest cabinet styles for 2023-2024?
Gone are the days of uninspiring cabinets! 2023-2024 cabinet styles showcase modern design and functionality. Some of the latest trends include:
Minimalist flat-panel cabinets without visible handles or knobs
Two-tone cabinets with contrasting colors or finishes
Open shelving to display decorative items alongside everyday items.
These trends provide homeowners and designers plenty of possibilities to express their individual styles.
Which color schemes are popular for kitchens in 2023-2024?
Forget that all-white kitchen — 2023-2024 is all about bright, bold colors. Some popular color schemes include:
Earthy, contrasting tones such as olive greens, terracottas, and navy blues
Warm hues like burnt oranges and rich yellows inspired by the natural world
Pastel shades for a fresh, modern look that remains calming and inviting.
Experimenting with one or more of these color schemes will set you apart from outdated designs.
What are the top small kitchen design trends in 2024?
Maximizing small kitchen spaces is crucial, especially in apartments or compact houses. Some top small kitchen design trends for 2024 include:
Utilizing vertical space for open shelves or hanging storage options
Choosing compact appliances designed to save space without sacrificing functionality
Incorporating movable or multi-functional furniture like a mobile island or tables with storage.
Your small kitchen can still be stylish and functional, so embrace these trends to make the most of it.
How are European kitchen trends influencing designs in 2023?
In 2023, European kitchen trends are making waves with their sleek, elegant designs that never compromise on functionality. Some key influences are:
Frameless cabinets with minimalist hardware and clean lines
Handleless cabinets for a seamless and streamlined appearance
Ambient lighting integrated within cabinetry and under countertops.
Incorporating European elements into your kitchen design adds sophistication and modern aesthetics to your space.
What are the upcoming kitchen sink trends for 2023?
It may not be the most glamorous topic, but stylish kitchen sinks are having a moment in 2023. Some popular sink trends include:
Quartz composite sinks with attributes like durability, stain resistance, and a variety of color options
Integrated sink and countertop materials, offering a seamless look and easy maintenance
Apron front sinks with unique materials, such as colored metals or natural stones.
These kitchen sink trends will elevate the overall look of your kitchen and make cleanup efficient and enjoyable.
Which kitchen trends are becoming outdated in 2023?
As the world of kitchen design evolves, some trends inevitably become outdated. Watch out for these soon-to-be relics of the past:
Over-the-top all-white kitchens are giving way to more colorful and textured designs
Waterfall kitchen islands are being replaced with more practical and inviting alternatives
Highly-polished granite countertops are losing their appeal as homeowners choose more environmentally-friendly options like quartz or recycled materials.
If you're planning a remodel in the coming years, avoid these outdated trends and embrace the new and exciting options available. Now that you've got a better understanding of the hottest kitchen trends, it's time to dive into the planning process and start transforming your cooking and dining space!