There's tech innovation, and then there's the Japanese toilet. These toilets are more than technological wonders, they've completely redefined – and revolutionized – handling a task all of us face every day.
The Japanese toilet, the epitome of smart home tech, combines age-old traditions with futuristic functionalities.
But wait – what makes it different from a standard western-style toilet? Why are there so many buttons? Is there a night light function for those midnight trips? How exactly does the bidet feature work? And what's the deal with the sound effects? What's the story behind the 'Toto Washlet'? Are the sound effects just a fun add-on or serve a deeper purpose? And really, how does the electronic bidet work without creating a mess?
Japanese toilets have some really interesting features that set them apart from Western ones. If you're remodeling your bathroom, looking at what makes these devices so special can help you understand why they're so incredibly popular in Japan and may convince you to get your own for your bathroom renovation. The unique functions of Japanese toilets make them worth considering when planning a bathroom upgrade.
Key Features of Japanese Toilets
Let's start by getting a high-level overview of the features that make Japanese washlet toilets so unique.
| Feature | Description | Benefit |
| --- | --- | --- |
| Heated Seat | Warms the toilet seat, especially useful during cold seasons. | Enhances comfort; No cold surprises. |
| Bidet Function | Provides a stream of water to cleanse after use. | Improved hygiene; Reduction in toilet paper usage. |
| Dryer Function | Air dries after the bidet function. | Eliminates need for paper; Enhanced comfort. |
| Deodorizer | Neutralizes odors in the toilet. | Maintains a fresh bathroom environment. |
| Music/Sound Player | Plays music or sound effects for privacy. | Conceals noise; Creates a more pleasant ambiance. |
| Water-Saving Flush | Efficient flush system using less water. | Environmentally friendly; Reduces water bills. |
| Self-Cleaning | Automatic cleaning mechanisms for the bowl and/or nozzle. | Reduces manual cleaning; Ensures better hygiene. |
| Energy-Efficient Modes | Functions that reduce power consumption. | Reduces electricity costs; Environmentally friendly |
| Automatic Lid Opening/Closing | Lid opens or closes upon approaching or leaving. | Hands-free operation; Improved hygiene. |
| Multi-Function Control Panel | Panel or remote allowing users to select various features & settings. | Customized user experience. |
| Remote Control | Separate remote device to control various features. | Convenience; Control from a distance. |
| Smartphone App Connectivity | Control and customize settings via a smartphone app. | Modern touch; Easy settings management. |
| Anti-Bacterial Materials | Materials designed to reduce bacterial growth. | Enhances hygiene and cleanliness. |
| Night Light | Soft lighting for nighttime use without needing bright overhead lights. | Convenience; Safer navigation in the dark. |
This table captures several unique features of Japanese toilets. Exact features will vary based on the brand, model, and price point.
You may have heard about the luxurious and high-tech toilets in Japan. If you're curious about what sets them apart, you've come to the right place. In this section, we'll discuss the key features of Japanese toilets, also known as Japanese smart toilets, that make them so unique and desirable.
Control Panels and Remote Control Operation
Japanese toilets are often equipped with advanced control panels and remote control operations. These control panels can be either mounted on the side of the toilet or accessed through a remote control. With the touch of a button, you can easily customize your toilet experience, from adjusting the water temperature to choosing from various flush options. These high-tech features make Japanese toilet seats a symbol of luxury and comfort.
Heated Seats, Water Temperature Controls, and Night Lights
No more cold toilet seats on chilly winter mornings! Japanese toilets usually come with heated seat features, allowing you to adjust the seat temperature to your liking. Additionally, the toilets provide water temperature controls, so you can adjust the bidet water's warmth and maintain a comfortable experience. Some even include night lights for those late-night bathroom visits, making it easy to navigate without turning on the harsh overhead lights.
Integrated Bidets with Adjustable Water Pressure
One of the most appreciated features of Japanese toilets is their integrated bidet function. This system provides a cleansing water spray after you've used the toilet, improving your hygiene and comfort. And don't worry about potentially too forceful of a spray — these toilets often have adjustable water pressure to suit your preferences. A Japanese toilet seat with an integrated bidet is truly a game-changer in personal cleanliness.
Motion Sensors, Automatic Flushing, and Sound Princess for Privacy
Japanese smart toilets also boast motion sensors that can detect your presence, automatically raising or lowering the toilet lid when you approach or leave. Additionally, these toilets often have an automatic flushing feature, further streamlining your bathroom experience. To provide users with some extra privacy, they also can be equipped with a Sound Princess function, which produces a masking noise to cover any embarrassing sounds that may occur during use. This thoughtful feature helps to provide you with both discretion and peace of mind.
Imagine the enhanced bathroom experience you could have with these incredible features. In the next section, we'll explore the different installation and maintenance factors involved in owning a Japanese toilet.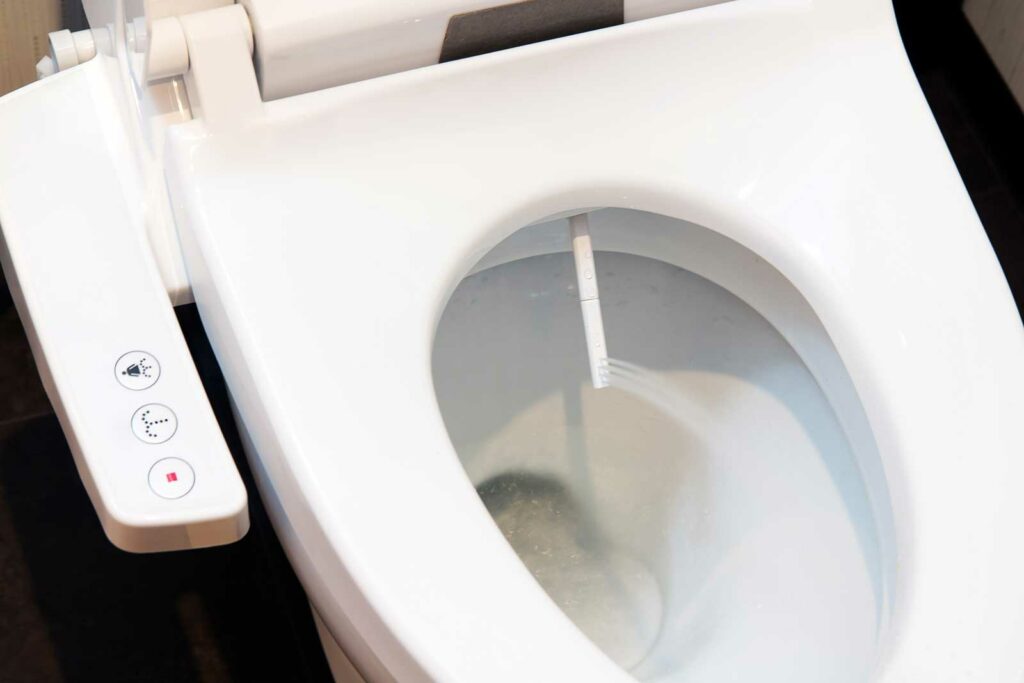 Benefits for Homeowners & Residential Settings
You're considering upgrading your bathroom and you've heard about Japanese toilets. These high-tech wonders not only offer a luxurious experience but also provide several benefits for homeowners and residential settings. In this section, we'll discuss how Japanese smart toilets can boost your property value, help conserve water, and offer installation insights for DIY enthusiasts.
Property Value Boost and Appeal to Modern Home Buyers
Japanese smart toilets have become a sought-after feature in modern homes. By installing one in your private home, you'll not only enhance your everyday life but also significantly boost your property's value. These innovative toilets appeal to potential home buyers for their advanced features, such as adjustable water pressure and temperature, making your home stand out in a competitive market.
Water Conservation and Reduction in Toilet Paper Usage
One of the main advantages of Japanese smart toilets is their focus on water conservation. These toilets use high-pressure water sprays, ensuring efficient and thorough cleaning while using much less water than traditional toilets. This not only saves you money on your water bill but also contributes to environmental responsibility. Moreover, with the integration of bidet functions, you'll find yourself using considerably less toilet paper – another eco-friendly and cost-saving perk.
High-pressure water sprays use less water
Reduced toilet paper usage
Environmentally friendly and cost-effective
Installation Insights for DIY Enthusiasts
As a DIY enthusiast, you may wonder about the installation process of a Japanese smart toilet in your own home. Although it might seem intimidating at first, with the right tools and guidance, it is quite achievable. The key is to carefully follow the instructions provided by the manufacturer, ensuring proper water pressure and, if applicable, electrical connections for any advanced features. Don't hesitate to consult a professional if you feel unsure about any step.
The first time I installed a Japanese toilet in my home, I was surprised at how user-friendly and straightforward the process was. By following the instructions and using the right tools, I completed the installation without any issues – and you can too.
With Japanese smart toilets, homeowners and residents in Japanese households can enjoy an upgraded bathroom experience that's environmentally friendly, cost-effective, and appealing to modern home buyers. So, as you plan your next home improvement project, consider incorporating one of these high-tech toilets that are sure to impress in both function and style, while making a valuable addition to your home.
Japanese Toilets in Real Estate
Picture this: a luxurious bathroom equipped with the latest high-end Japanese toilet, blending modern technology with elegant design. This undeniable luxury feature not only improves the user's comfort but can also boost your property's value, making it more appealing to potential buyers. Let's dig into how Japanese smart toilets are changing the game in the real estate world.
Luxury Feature Perspective for Property Investors and Flippers
Imagine flipping a property and adding a touch of opulence that makes it stand out from the rest. Japanese smart toilets are that much needed upgrade, taking the bathroom experience to a whole new level. Here's a brief overview of the benefits these toilets offer:
A heated seat: Say goodbye to chilly wintertime bathroom excursions! Adjust the temperature to the liking of its users and maintain that warmth at all times.
A built-in joystick-operated bidet: Different water jet options can be controlled by a remote, allowing users to customize their hygiene experience.
Self-cleaning technology: The toilet will be mostly low-maintenance, automatically taking care of the cleaning process.
Adding these features to a property will make it more desirable for potential buyers, and these high-tech lavatories bring a sense of luxury that can increase the property's market value.
Market Trends Indicating Rising Demand
Bestseller No. 1
Uncle Brown Luxury Smart Toilet with Bidet Built In, Bidet Toilet with Heated Seat, Elongated Japanese Toilet with Automatic Flush, Dryer, Night Light, Digital Display
Bidet Toilet Combo: The bathroom toilet built-in bidet seat, and the washing position, water temperature, and water pressure can all be adjusted. Choose the wash that suits you.
Heated Seat Toilet: Set the right temperature, then sit down and enjoy the warmth of the toilet seat.
Automatic Flush Toilet: When you stand from the toilet seat, the machine will send commands to control the flushing. Also, the flush can be controlled by a remote or knob. 1.27GPF.
Sale
Bestseller No. 2
Zevemomo Smart Toilet, Auto Flush, Modern Japanese Toilet with bidet built in, Auto Open/Close, Foot Sensor, Heated Seat, Auto Flush, Warm Water/Dryer, Night Light/LED Display, Remote Control
【How Flush】This smart toilet features Off-seat auto flush, foot sensor flushing and remote-control flushing for your choice. Bidet toilet with siphon flushing technology and pre-wetting function, efficient and powerful rinsing away of matter.
【Seat Heating】Say goodbye to cold seats! The smart toilet seat heating function allows you to enjoy a cozy and warm experience when you sit down. Support 4 levels of temperature adjustable.
【Refreshing & Hygienic】With self-cleaning stainless steel nozzles, It can be used for rear/ female/ massage cleaning, Customize the cleaning method that suits you with adjustable water pressure, settings temperature and position. Combine with auto deodorization and drying functions, Enjoy a refreshing and odor-free.
Bestseller No. 3
Bestseller No. 4
Bestseller No. 5
Sale
Bestseller No. 6
ELLAI Smart Toilet with Bidet Built In, Bidet Toilet with Remote Control,Elongated Japanese Toilet with Auto Flush/Heated Seat/Warm Water/Air Drying Function/LED Night Light
【AUTO-FLUSH】: This bidet toilet features an automatic flushing mechanism that eliminates the need for manual flushing. With its smart sensors, the toilet detects when you're finished, and flushes accordingly, helping to reduce water usage and ensure maximum hygiene.
【MULTI-FUNCTIONAL WASHING】: The multi-functional washing feature of this intelligent toilet offers a comprehensive and customized cleaning experience. With options for front and rear washing, adjustable water pressure and temperature, and pulsating spray modes, you can personalize your cleaning routine to your preferences.
【AIR DRYING】: This smart toilet comes equipped with a built-in air dryer that eliminates the need for toilet paper, providing a convenient and eco-friendly way to dry off after cleaning. The air dryer offers adjustable temperature and strength settings to ensure a comfortable and effective drying experience.
Sale
Bestseller No. 7
Bestseller No. 8
Bestseller No. 9
LUXE Bidet NEO 120 – Self-Cleaning Nozzle, Fresh Water Non-Electric Bidet Attachment for Toilet Seat, Adjustable Water Pressure, Rear Wash (Blue)
THE ULTIMATE VALUE – With a sleek design and high-quality parts, our bidet attachment will give your bathroom a next-level look. Constructed with high-pressure valves with metal-ceramic cores and steel hoses instead of plastic.
HYGIENIC PROTECTION – The guard gate is designed to shield the nozzles for your ultimate sanitary experience. The nozzles automatically retract behind the guard gate after each wash to ensure it is protected until your next use.
AN EASY HOME UPGRADE – Elevating your home with a luxurious element has never been easier. Includes ALL PARTS AND TOOLS to get your bidet up and running in minutes. Easily attaches to and detaches from any standard two-piece toilet.
Sale
Bestseller No. 10
With Western-style toilets now becoming more common in Japanese homes than traditional squat toilets, the demand for Japanese smart toilets is also growing in Western markets. This increasing interest creates a perfect opportunity for real estate professionals and property flippers to incorporate this revolutionary technology into their properties.
Increased awareness of the benefits of Japanese toilets has led to a rise in their popularity, especially among millennials and tech-savvy buyers.
Environmental consciousness is another factor driving the adoption of these toilets. Their water-saving features and self-cleaning capabilities can attract eco-conscious buyers.
As you can see, incorporating Japanese smart toilets into your property investments can boost your property's value and attract potential buyers. It's worth considering whether it's time for you to make this upgrade as well. But of course, the world of real estate presents many opportunities for growth and investment; let's continue to explore even more innovative ways to maximize your property's potential in the next section.
Addressing Common Misconceptions
You might have heard some conflicting information about Japanese toilets and bidets. In this section, we'll clear up those misconceptions and provide you with a better understanding of these innovative bathroom fixtures. So, let's dive right in!
Differentiation between Bidets and Japanese Toilets
First off, it's essential to differentiate between a traditional bidet and a Japanese-style toilet. A traditional bidet is a standalone bathroom fixture that looks similar to a toilet but is used for washing the private areas after using the toilet. On the other hand, a Japanese bidet toilet seat or a Japanese bidet-style toilet is a technologically advanced toilet seat with built-in bidet functionalities. These features usually include warm water cleansing, air drying, heated seating, and more.
Here's a brief comparison of the two:
Traditional bidet:

Separate fixture
Manual operation
Cold water
Requires more space

Japanese bidet toilet seat:

Integrated with the toilet
Automatic operation
Warm water
Space-saving
It's worth mentioning that most Japanese bidets and bidet toilets are often mistakenly used interchangeably, but now you know the essential differences between them.
Safety and Electricity Concerns
One of the common concerns about Japanese bidet toilet seats is the safety of using electricity in the bathroom. Rest assured, these high-tech toilets are designed with safety in mind. The electrical components are typically housed within a waterproof enclosure to prevent any accidents. Moreover, these devices have to pass rigorous safety standards before hitting the market.
Now that you know Japanese toilets are safe, don't let the thought of electricity hold you back from experiencing the unparalleled comfort they can provide. In fact, many first-time users are surprised by the level of cleanliness and convenience these toilets offer compared to traditional U.S. toilets.
In conclusion, Japanese bidet toilets are a significant upgrade from their traditional counterparts, offering a plethora of features together with safety and convenience. With this knowledge, you can now make an informed decision when considering whether to invest in a Japanese-style toilet for your home. So go ahead and explore these high-tech bathroom fixtures and experience the difference for yourself.
Historical Context of Japanese Toilets
Imagine traveling back in time to experience the evolution of Japanese toilets first-hand. From ancient squat toilets to today's cutting-edge smart toilets, you'll witness Japan's unique approach to restroom culture. Let's delve into the history and understand the transition of these innovative washrooms.
Transition from Early Squat Toilets to Modern Tech-Driven Versions
In ancient times, Japan used traditional squat toilets which can still be found in some older public buildings and train stations. These Japanese-style toilets were made of ceramics and often featured delicate artwork, showcasing their meticulous attention to detail. As time went on, Japan began to adopt the Western-style toilet with a flush system, which, as a foreigner visiting the country, you may find more familiar.
By the early 20th century, Japan embraced the Western-style toilet bowl with the advent of Toyo Toki Company, which would later be renamed TOTO. TOTO pioneered high-tech innovations in toilet design, starting with the Japanese bidet toilet seat called the Washlet in 1980. These revolutionary smart toilets have since become a staple in Japanese homes, boasting features such as heated seats, automated lid opening, and gentle water spray for an unparalleled cleansing experience.
Today, Japanese smart toilets are ubiquitous and highly regarded worldwide. Here's a quick overview of their widespread use and popularity in contemporary Japan:
Pervasive in public restrooms, especially in train stations and airports
Found in most modern homes, hotels, and offices
A significant asset for hygiene and cleanliness
Despite the tech-driven revolution in Japanese toilets, some establishments still maintain traditional squat toilets to cater to those who prefer the older style. However, with the increasing popularity of Japanese bidets and smart toilets, it's safe to say that Japan has cemented its place as a leader in restroom technology and innovation.
In this engaging journey through the history of Japanese toilets, it's hard not to feel a sense of awe and respect for the country's commitment to cleanliness, comfort, and technological ingenuity. As you move on to the next topic, continue to explore the fascinating world of Japanese toiletry and appreciate the thought and care that goes into every sanitary detail.
Cultural Insight and Trivia
Are you curious about Japanese toilets and what makes them special? You're not alone; many people are fascinated by this aspect of Japanese culture. In this section, we'll explore how Japanese culture has shaped toilet evolution and uncover some unique toilet facts.
How Japanese Culture Shaped Toilet Evolution
To understand the context of Japanese-style toilets and the features they offer, it is essential to learn about the Japanese culture and its impact on daily life. The traditional Japanese squat toilet, which is still prevalent in some Japanese homes, is not only a product of cultural preferences, but also an indication of how hygiene is valued within Japanese society.
One of the factors that has greatly influenced the development of toilets in Japan is the ancient culture's emphasis on purity and cleanliness. This focus on hygiene can be seen in the prevalence of high-tech toilets created by companies such as TOTO, a leading Japanese company in the industry.
In contrast to the traditional squat toilets, the modern Japanese toilets, also known as Washlets, are equipped with an array of advanced features. These include:
Heated seats
Bidet functions for cleansing
Deodorizing modes
These innovations have not happened by accident; they are the result of a society that places a premium on both cleanliness and personal comfort.
Unique Japanese Toilet Facts
Here are some fascinating facts about Japanese toilets:
Japan has the highest number of electronic toilet seat sales in the world. TOTO, one of the leading Japanese companies in the market, has sold tens of millions of their high-tech Washlets since they were first introduced in the 1980s.
Many Japanese restrooms are accompanied by specialized slippers for cleanliness. This is to prevent contamination of the toilet space with the shoes worn outdoors.
Some public restrooms in Japan are equipped with white noise machines or sound-blocking technology to provide privacy and minimize noise for users.
Many high-tech Japanese toilets are designed to be eco-friendly, utilizing features such as low-flow flush systems and natural air deodorizing methods.
By incorporating these cultural considerations and fascinating trivia into your understanding of Japanese toilets, you can gain a deeper appreciation for how these toilets have evolved throughout history, while maintaining their unique features. Now that you're familiar with the origins and uniqueness of these toilets, let's move on to explore some practical aspects.
Related & Frequently Asked Quesions
Navigating the world of Japanese toilets can bring up a lot of different questions. After all they're complicated devices with their advanced features and unique functionalities. Here are answers to some of the more common questions.
Q: What is a traditional Japanese toilet?
A: A traditional Japanese toilet, often referred to as a "squat toilet," is a floor-level toilet where users squat over it to use, as opposed to sitting. This style was prevalent in Japan before the widespread adoption of Western-style seated toilets.
Q: How do Japanese style toilets work?
A: Japanese style toilets, often known as "smart toilets," come equipped with a range of features. They have control panels that allow users to adjust functions like the bidet spray, seat temperature, and air dryers. Many also come with motion sensors to raise and lower the lid and have automatic flushing mechanisms. Advanced models even offer UV light sanitization and self-cleaning mechanisms.
Q: Are Japanese toilets more hygienic?
A: Yes, Japanese toilets are considered more hygienic due to their bidet features, which use water to cleanse after use, reducing the amount of toilet paper and potential spread of germs. Additional features like UV light sanitization and self-cleaning mechanisms in advanced models further enhance cleanliness.
Q: Do Japanese toilets eliminate toilet paper?
A: While Japanese toilets significantly reduce the amount of toilet paper needed due to their bidet functions and air-drying features, they don't entirely eliminate the need for it. Some users might still prefer using a small amount for added cleanliness or drying.
Q: Why are Japanese toilets heated?
A: Japanese toilets often come with a heated toilet seat feature, providing comfort, especially during cold mornings or in the middle of the night. It's one of the smart features that differentiate them from traditional Western toilets.
Q: Can you put toilet paper in a Japanese toilet?
A: Yes, you can put toilet paper in a Japanese toilet. Most modern Japanese toilets and plumbing systems are designed to handle toilet paper. However, some public places or older establishments may have specific rules, so it's always a good idea to check for signs or guidelines.
Q: What does Japan use instead of toilet paper?
A: While toilet paper is used in Japan, many Japanese style toilets also provide a bidet feature, which sprays water for cleaning. This reduces the amount of toilet paper needed. Some toilets also offer air dryers to further reduce the need for paper.
Q: Is a Japanese toilet the same as a bidet?
A: While a Japanese toilet often incorporates a bidet feature, it is not just a bidet. Japanese toilets offer a range of smart features, such as heated seats, night lights, and motion sensors, which set them apart from a separate bidet or traditional toilet.
Q: Why do Japanese use squat toilets?
A: While modern Japanese bathrooms have largely transitioned to Western-style toilets, squat toilets were traditional in Japan. Some believe they offer a more natural position and can be more hygienic as there's no direct contact with the toilet seat. However, they are becoming less common in urban areas and newer buildings.
Q: What are the benefits of a Japanese toilet?
A: Japanese toilets offer numerous benefits, including enhanced hygiene through bidet and air-drying functions, comfort features like heated seats and temperature control, and advanced functionalities such as UV light sanitization, automatic flush functions, and smart technology integration.