Having your own home office is great – but does it increase the value of your property in today's real estate market?
If you've been enjoying the perks of your home office, you might be wondering if that same office will increase your property value when it comes time to sell your home.
With so many people working from home today, the demand for a dedicated home office space is higher than ever. The extra living space is useful to prospective buyers, and research has shown that a home office can increase property value by as much as 10 percent. 
The COVID-19 pandemic changed the work-from-home climate forever so if you've configured and built out a home office on your property it could most definitely be appealing to potential buyers who when it comes time to sell.
But what features should you have in your home office for maximum value?
And what is about a dedicated home office space that makes a home so appealing?
What about an extra bedroom vs. a home office – is there a difference?
In this post I'm covering it all so you know how all you need to know about how a home office can benefit your property value.
By the way – before we get into it, if you want to get more great ideas for your home office and connect with other home office hackers to make your space the best join my free private Facebook group, Home Office Hacks here.
Does a Home Office Increase Property Value?
Potential home buyers have found themselves working in makeshift spaces that are not good solutions for the long term.
Whether it's setting up on the kitchen table, or grabbing a spot in the living room, these kinds of thrown-together solutions aren't sustainable.
And the fact that working from home or in some other remote way is undeniable path of the future, home buyers need sustainable solutions.
So if you have a home office, or you're thinking about adding one, having a home office in your house can increase your property value.
According to a survey done by Zillow, a dedicated home office is at the top of the list for potential home buyers.
A home office was mentioned more than 8% of all new homes for sale according to their research, and builders are also catching on to this increasing trend too, by designing homes with dedicated office spaces.
In the UK research has found that adding a home office boosts the value of homes by 8-10%.
In addition, homes with dedicated work spaces are selling faster too.
According to the U.S. Bureau of Labor & Statistics, 33% of employed people worked from home at least in some capacity during the COVID-19 pandemic, and while that number may change a little over time as the restrictions on activities due to the pandemic subside, the fact that people are going to continue to work from home will continue.
In fact, people are even quitting their jobs instead of giving up working from home according to this Bloomberg article.
Increased Demand for Home Offices with Potential Future Homebuyers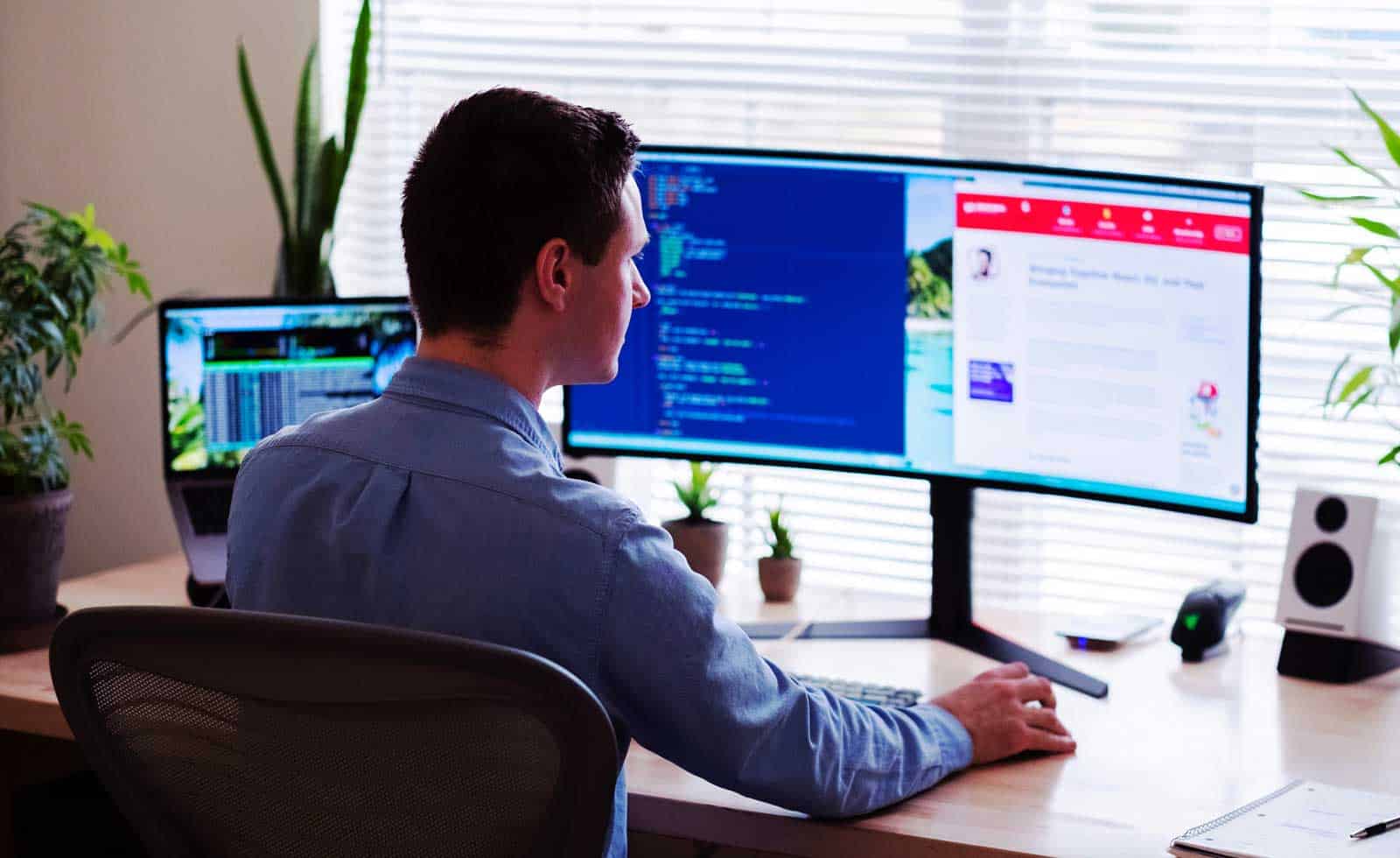 Due to the coronavirus pandemic that began in 2020 and is still going strong in late 2021, much of the workforce has gotten very familiar with working from home.
Whether offices utilize remote work or workers decide to go off on their own and work from home, home offices have become essential for all kinds of people.
And it's not just the workforce. Students also need a dedicated space to get their work done.
Students and workers alike can share a home office space as the need arises. When the pandemic kept students home from school, virtual learning became the new normal for most students – whether it was elementary age children, or college age adults – everyone was doing their work online.
A dedicated home office can potentially increase a sale price for buyers seeking a quiet space where they can concentrate and focus on tasks without distractions. Students can also take advantage of this environment when it comes to virtual classes, studying, and completing homework.
So the need for properties that have a dedicated work space isn't going away any time soon!
How Much Value Does a Dedicated Home Office Space Add?
Since there is indeed an increased demand for home office space, having one in your home can boost your home's value when it comes time to sell by up to 10 percent.
Depending on how much money you put into your home office, you could make a huge return on the investment.
Considering that home offices don't typically have high maintenance costs, your office could get you a return on investment of additional tens of thousands of dollars when you sell your home.
As always, when it comes to property values, the features you choose to add to your home office will ultimately dictate what value is added.
Things like built-in desks and cabinetry, built-in bookcases, and built-in accommodations for media are all great ways to accentuate your home office work space and add value, increasing your ability to ask for more per square foot than other properties that do not have those kinds of features.
What Makes a Dedicated Work Space So Appealing to Potential Buyers?
When potential buyers see a house with a dedicated work space, they immediately think about the benefits that come along with such a feature.
The first benefit is obvious; if someone wants to buy a home because they want to live here, then they're likely looking for something that makes them feel comfortable living in the area.
That could very well mean that the living area should be – at least in the potential buyer's mind – for living, not working.
If they find out that the home doesn't offer enough room for a dedicated workspace, they may be less inclined to purchase the home.
Another reason why a dedicated work space might appeal to prospective buyers is due to its versatility.
With a dedicated work space, homeowners can use the space however they'd like. They can set up a desk, create a small study nook, or even turn the entire space into a bedroom.
Rarely if ever is someone going to buy a home just because of its dedicated work space. However, it could be the one thing that the property owner added that puts their home over the top in the buyer's mind.
In addition, even though the potential property owner may not even work from home, a home office can still serve a beneficial role because they can still enjoy the benefits of a dedicated work space.
And finally, some people simply prefer to keep their personal life separate from their professional lives. If that describes you, then a dedicated work space allows you to maintain that separation while still enjoying the benefits of being able to work anywhere within the home.
Dedicated Workspace Features That Can Boost Your Sale Price
While many homes already include a dedicated workspaces, others lack this type of feature. And depending on which ones you decide to go with, you'll need to consider certain things before making any final decisions.
For example, if you plan on using the space as a guest suite, you'll probably want to look for a design that includes plenty of storage options so guests won't end up tripping over each other trying to grab items off shelves.
As mentioned before a wall-mounted desk or built-in cabinetry would also make sense when planning and building out a dedicated work space. But what else will help boost your sale price? Let's take a closer look:
Built In Desks & Cabinets
One of the most popular types of furniture used in a dedicated work space is a built-in desk. These pieces usually consist of an open shelf where users place their computer monitor and keyboard.
They often include drawers underneath the desk surface for additional storage. Some models are designed specifically for home offices, but there are also more affordable versions available.
A few key features to look for when shopping around for these desks include adjustable height legs, pullout trays, and multiple USB ports. The latter two add convenience by allowing users to charge devices without having to plug them directly into power outlets.
Cabinet Options
There are several different cabinet styles that can be incorporated into a dedicated work space. For instance, freestanding cabinets allow users to store files, books, supplies, etc., away from the main living area.
These units typically have doors that swing outward, providing easy access to stored materials. Another option is a rolling file cabinet. This style has wheels at either side of the unit, enabling users to roll the cabinet back against a wall whenever needed.
Built-in Bookcases
The shelving on built-ins provide tons of storage for all sorts of items. They're especially useful for storing documents, books, computer peripherals, and knickknacks.
If you choose to incorporate built-in bookcases into your workspace, you should think about how much room you really need. You don't necessarily need to fill every inch of the walls with bookshelves.
As an example, you could add built-in bookcases with cabinetry underneath to maximize the storage space.
Wall Mounts
Another common piece of furniture found in a dedicated work space are wall mounts. These come in various sizes and shapes, including desktop mount, floor stand, and even ceiling mounted systems.
Desktop mounts offer the easiest way to hang monitors above a desk top. Floor stands enable users to position their equipment right next to their computers instead of having it sit atop a table. Ceiling mounts let users install their own custom system wherever they'd like.
Wall Mounted Desk Option
If you'd prefer something customized to your personal need a wall mounted desk is a great option. Like the name implies, these units are built into walls and are mounted onto the walls via heavy duty brackets.
Built-in Media Options
Another important consideration when designing a dedicated work space involves built-in media options.
This means adding in specialized outlets for cable and internet access.
It could mean adding an HDMI cable to a wall outlet.
Or it may require installing Ethernet cables throughout the room. Either way, it's best to consult with an electrician prior to starting construction unless this is something you're comfortable with.
The last thing you want is to run wires through ceilings or floors only to find out later that the wiring isn't compatible with whatever equipment you're going to use.
A Couple Other Options For Your Dedicate Workspace
You also don't necessarily want to make the space too large. While larger spaces tend to give the impression of having more space available, smaller rooms often provide better functionality.
A good rule of thumb would be to try to stay under 10 feet wide by 15 feet long. Anything bigger tends to overwhelm visitors who aren't used to seeing much space.
Finally, if you want the option to convert the space into an extra bedroom, you'll want to ensure there's adequate lighting throughout the room (we'll talk more about that in a minute).
Is a Home Office Considered an Extra Bedroom?
When you're searching for properties for your next home the first thing that comes up is the number of bedrooms and bathrooms you need.
Bedrooms are great selling points for a home, so the more the better. So, is an office considered an extra bedroom?
It depends.
An office can only be called a bedroom if it meets specific criteria. There are actual rules that dictate what can be considered a bedroom.
Requirements for a Bedroom
A true bedroom must have all of the following:
A closet
Two means of egress (exit) that open and close, like a window to the outside and a door.
A minimum size (square footage)
If you've lived in a small apartment, you know that closet size can vary. A bedroom doesn't need a large closet to qualify. A small closet will do.
The two means of egress typically refer to a door and a window. So, if your office has a door that can be closed and at least one window, it checks this box.
There is no national standard, so bedroom classifications are really up to real estate agents who follow a certain code of ethics. Ask a real estate agent or home appraiser if you are not sure if your home office can be considered a bedroom.
What Adds More Value: An Office or Bedroom?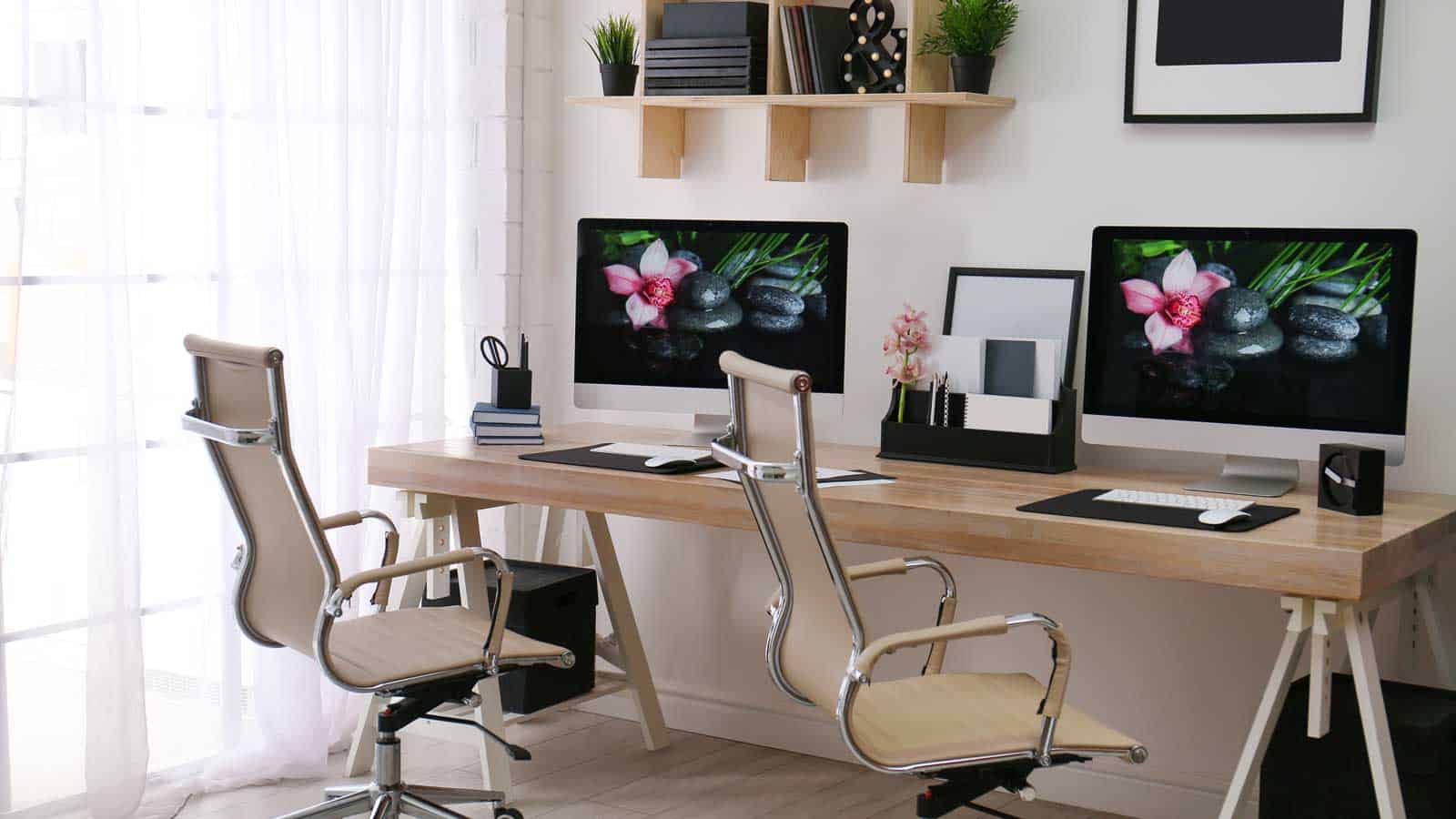 Overall, a bedroom still adds more value to a home than a home office. This is because listing each available bedroom as a bedroom opens up a home to more potential buyers.
For example, if a family needs three bedrooms and a home office, they can search for homes with either three bedrooms and one office, or homes with four bedrooms. However, a family that needs four bedrooms will only look for homes that have four bedrooms.
While your home office will certainly increase your home's value, it's still smart to list your home office as an extra bedroom when selling if it meets the qualifications of a bedroom. You and your real estate agent can still mention the home office during open houses.
Home Office is a Better Investment Than Other Potential Costly Remodels
A home office is a much safer choice for property owners than other potentially costly renovations. When putting a house on the market, many people find plenty of things in their homes that need remodeling. Unfortunately, many of these renovations can become too costly and get out of hand quickly.
A major kitchen remodel
Updating a bathroom
Fixing electrical or plumbing
All of these renovations can be expensive and time-consuming. Property owners often find themselves drowning in unfinished projects when they'd rather be selling their homes.
Fortunately, a home office is a much easier room to maintain and upkeep. Slap a fresh coat of paint on the wall and replace any fluorescent lighting with modern LED lighting and you have an updated home office.
How to Increase Value of Your Property with a Home Office
If you're looking to invest a bit of time and money into your home office and avoid bad returns, be smart with your initial home office setup. There are a few different options and you should choose the one that works best for your needs and doesn't break the bank (or your back!).
Repurpose Existing Unused Space
The simplest method for creating a useful, marketable home office is to repurpose an unused space in your home. By doing this, you won't have the excessive costs of building additions or custom fittings.
| | | |
| --- | --- | --- |
| Type of Space | Pros | Cons |
| Guest Bedroom | Will count as an extra bedroom for potential homebuyers. Will increase property value the most. | Not always quiet or free of distractions. |
| Attic Conversion | Private, out-of-the-way, and quiet space to work. Takes advantage of a rarely utilized space. | Requires more work to properly insulate. Requires more work to hook up electricity. |
| Garage Conversion | Doesn't take away from interior home square footage. Private. | Requires more work to properly insulate. Requires more work to hook up electricity. |
Obviously, a guest bedroom is a bedroom and will be counted as such when the house goes up on the market. An attic conversion could be considered a bedroom if the attic is converted wholly into a bedroom-style space with the required criteria.
Adding Extension onto House
You can also add onto a home to build a custom home office from scratch. This method is far more expensive and not always doable, depending on the area where you live.
The advantages of building an extension onto your home include total freedom to customize the space and the additional living space. More square footage means a higher property value.
Disadvantages of building a home extension include the high expenses and loads of work that this job requires. Additionally, you might have to receive planning permission from local departments.
Before you build a home office from scratch, weigh the costs versus your potential returns. You might find that you're more likely to lose money going this risky route.
Add a Shed Home Office
Square footage is the baseline determining factor of a home's value. Every realtor I've ever talked to about real property values always has talked in terms of price per square foot.
If you have enough outdoor space in your backyard, a home office shed can be your perfect office escape from the in-house distractions.
It's more affordable and more practical than taking on a full-scale construction project, renovation, (or addition).
A home office shed gives you the flexibility to customize your working space while maintaining functionality.
You can buy a customized prefabricated home office shed or convert the existing storage shed into your business corner. All in all, it is the most convenient and affordable way to add some extra square footage to your home for office use.
And all the while, you're adding square footage to your home that's rich with features and it's a great way to add value to your home.
Add a Home Office If You Will Use One
If you're planning to add a home office in the near future, make sure you're setting up your home office for the right reasons. Don't add a home office to your home just to increase the real estate market value.
However, if you do work from home like so many of the rest of us, use that to your advantage.
We are currently experiencing unprecedented times, especially when it comes to the labor market. Folks who were working from home due to necessity are starting to leave office jobs in pursuit of more flexible freelance work.
Design an Attractive Home Office
If it's time to put your house on the market, it's best to stick with neutral designs and colors that appeal to the widest possible audience. Design an attractive home office that buyers are sure to love.
Above all, though, your home office should meet your needs. You're the one currently using it, after all.
Choose pleasant paint colors that boost productivity and lower stress.
Include pieces you personally love, such as plants, art, throw blankets, colorful supplies, and more.
Whether you're putting your home on the market tomorrow or you've contemplated selling years down the road, your home office is still your haven where you need to get work done, remain productive, and feel good while doing so.
Next Steps
Want to join others who are creating the most amazing home offices and get more tips, tricks and hacks on how to make your home office the best it can be?
Join my brand new free private Facebook group, Home Office Hacks to connect with other home office hackers to make your space the best!