Imagine transforming your living space with just a few swipes of paint or stylish accents in today's trendiest colors. With 2023 winding down and 2024 just around the corner, it's time to start thinking about the latest interior design and home decor trends to stay ahead of the game and create a fresh, inviting space. In this article, we'll dive into the trending brand colors for home decor and how you can use them to spruce up your home.
The Pantone Color of the Year consistently influences the interior design world, setting the stage for other home decor trends to follow. For 2023, we can expect a blend of classic neutrals, earth tones, and vintage-inspired shades making their way into living spaces across the globe, sparking a sense of calm and comfort in these uncertain times.
The upcoming year's color trends will often dictate the styles and materials used in various aspects of interior design. From furniture to textiles, incorporating these trendy hues can breathe new life into your home and create a harmonious atmosphere that reflects your unique personality. Stay tuned as we explore the most popular colors for 2023 and provide you with valuable insights on how to seamlessly integrate them into your home decor.
The Rise of Nature Inspired Colors
You might be wondering, "Why are nature-inspired colors so popular in home decor these days?" Well, let me tell you, incorporating these colors into your design can immensely elevate the elegance and serenity of your living space. Let's dive in and explore the world of natural colors and how they are impacting the latest trends in home decor.
Green tones, earthy shades, and natural materials have become a staple of home decorating in recent years. These colors bring a refreshing sense of connection with nature, offering warmth, and a calming presence in interiors. Incorporating green and earth tones into your design can create a haven where you can find solace and unwind after a long day.
In my experience, I found that using greens, plants, and natural colors can improve your mood significantly while boosting the aesthetic appeal of your home. They not only make the place look lively but also induce a sense of belonging to the world outside – a much-needed feeling in today's fast-paced and technology-driven lifestyle.
One way to bring nature-inspired colors into your home is by painting your walls in shades of green or earth tones. You could try different shades like eucalyptus leaf colors ranging from pale, almost-white to deep gray-greens. These cool and organic colors with gray undertones are gaining popularity as they give a sophisticated touch to your interiors.
Incorporating natural materials, such as wood, bamboo, or linen, can also contribute to the earthy feel in your home. These materials blend seamlessly with the tones inspired by nature and provide a sense of harmony, warmth, and coziness. Furniture pieces made of these materials will instantly elevate the aesthetic appeal and make your home look effortlessly stylish and closer to nature.
Another important aspect to consider is adding indoor plants and greenery to your home. From small potted plants to larger tree-like foliage, they bring fresh air, life, and visual interest. Combined with the right color palette, the presence of real plants enhances the connection with nature and elevates the overall vibe of your space.
The rise of nature-inspired colors in home decorating is not just about making a style statement – it's also about embracing the need for a harmonious and soothing living environment. If you're ready to transform your home, start paying attention to greens, earthy tones, and natural materials. You'll surely fall in love with the serenity and warmth that these colors bring to your space.
The Dominance of Neutrals
You might be wondering what's the secret sauce behind fashionable homes today. Well, let me spill the beans: it's all about the dominance of neutral colors. In this section, we'll explore the rise of neutrals in home decor and you'll discover why they've become the go-to choice for stylish abodes.
White, gray, beige, black, and amber are not only versatile but also timeless. These neutral colors have been steadily gaining popularity, becoming the top choice for homeowners and interior designers alike. They create a harmonious atmosphere and make it easy to incorporate various design elements.
In my experience, a well-chosen neutral color palette can transform any room into a sophisticated sanctuary. For instance, white is both classic and elegant, making it the perfect base for bolder accents. Gray is equally popular, as it blends seamlessly with other hues and evokes a sense of calm and modernity.
Beige and black are two other neutral colors that are gaining momentum in the world of home decor. Beige offers a warm and inviting ambiance, while black brings a touch of drama and depth when used strategically. Similarly, shades of green and soft sage can also be considered neutrals, adding a fresh and natural vibe to any space.
However, it's not just about the color on your walls; we're also seeing a surge in neutral-colored furniture and accessories. From sofas and rugs to curtains and throw pillows, these subtle hues create a cohesive look, making it easier than ever to mix and match varying styles.
One trend that's getting attention lately is the elegant farmhouse style, where Shaker-style cabinets, apron-front sinks, and furniture-style islands are dressed in neutral tones. This elevated take on the popular rustic theme proves that neutrals can be luxurious and comforting simultaneously.
In conclusion, the dominance of neutrals in home decor is a reflection of the desire for simplicity, harmony, and timelessness. They offer endless possibilities and make it easy to create a polished and inviting space. So, next time you're considering a home makeover, remember that sometimes less is more, and neutrals might just be the key to unlocking your dream design aesthetics.
Warm and Earthy Shades
Your home decor is about to change like never before. Ditch the traditional pastels and dive into the world of warm and earthy shades. Let's explore these cozy, must-have colors for your living space.
Brown, reds, and rust are some of the most popular earthy tones creating a sensation in the home decor scene. These warm neutrals bring a sense of warmth and serenity into living spaces, providing a departure from colder, contemporary color palettes. With warmer colors on the rise, your home will turn into an inviting haven with just a few earth shades.
Sherwin-Williams' Shoji White is an excellent choice for those who want a softer, earthy take on white. This subtle hue can make a significant impact, as it effortlessly combines warmth and neutrality. In my experience, Shoji White creates a calm atmosphere that transcends trends and fits easily into a variety of styles.
Another captivating color to consider is Pale Peach, which blends beautifully with Citrus Orange for a cozy and modern ambiance. The secret to a cozy color palette is warmth, and these colors showcase just that. Get ready to transform your bedroom into an inviting oasis with this stunning pair.
Now, let's talk about warm neutrals. Finnie Gray by Benjamin Moore is a versatile choice, appearing as either a sage green or a greige depending on the light. The color's adaptability makes it an ideal option for those who want their homes to feel extra cozy, while still maintaining a clean and sophisticated appearance.
Finally, don't shy away from bolder earthy tones, like deep burgundies or rich blues. These colors can create a striking statement in your home without sacrificing warmth. Don't be afraid to play with various shades and create your very own warm color scheme that reflects your personality and design sensibilities. It's undoubtedly an investment you'll be proud of.
Ready to dive into the world of warm and earthy shades? Embrace these trending color choices and watch your home transform into a cozy paradise.
Vivid Colors for Bold Statements
Want to be a trendsetter in 2023? It's time to embrace the power of color. Vivid hues are making a splash in the world of home decor, and these eye-catching palettes can transform your space into a reflection of your personality. So, let's explore the top bold statements you can make with trendy brand colors this year.
Blues and reds are leading the charge in 2023's color revolution. From deep, moody blues to rich, energizing reds, these shades add depth and drama to any room. Don't be afraid to experiment with unexpected color combinations, like raspberry blush and azure blue or redend point with turquoise. Mixing and matching these bold colors will create a vibrant atmosphere that's both energizing and relaxing.
It's time to embrace jewel tones in your home decor. Shades like emerald green, sapphire blue, and amethyst purple evoke opulence and sophistication. If you're looking to create a luxurious space, these rich hues will elevate your room's ambiance to an entirely new level. In my experience, incorporating jewel-toned throw pillows or rugs can quickly transform a room.
Finally, let's talk about some standout hues that are grabbing attention, namely viva magenta. This vivid shade is perfect for an accent wall or statement furniture piece. The addition of this powerful color will invigorate your space, commanding attention and instantly becoming a memorable focal point.
Now that we've explored some of the top bold colors and palettes for 2023, it's time for you to make your own statement with vivid colors in your home decor. Remember, experimenting with color combinations and incorporating rich, saturated tones will breathe new life into your space and showcase your unique style.
Functional Areas and Their Color Palettes
You won't believe how color can transform your home until you read this. Curious about which colors to use in different functional areas of your home? Look no further! Let's dive into some trending palettes that will breathe new life into your bedroom, office, and more.
Bedroom color trends are leaning towards comforting and restorative hues like earth tones and classic neutrals. In my experience, a cozy bedroom is vital for a good night's sleep. So, try pairing warm neutrals with soft, calming shades like blues and greens, or opt for a bolder statement with colors like Raspberry Blush.
When it comes to office spaces, productivity and focus are crucial. Experiment with greens and blues to create a serene atmosphere, or try deep earth tones to keep the setting grounded. As more people work remotely, curved furniture gains popularity for its soft look and ergonomics. Add a pop of color to these pieces for a stylish and functional space.
Wallpapers and prints open up a world of possibilities for unique patterns and color combinations. Don't be afraid to go monochrome with tone-on-tone schemes – it's a sophisticated and foolproof choice. On the other hand, vibrant wallpapers showcasing nature-inspired designs will liven up any room, making your home anything but boring.
Furniture is not only about form and function but also color. Incorporate bold and striking hues into your pieces, such as sofas, chairs, and tables. This will not only draw attention but also give your home a modern, chic vibe. Remember to balance the color palette and choose hues that harmonize with the overall design of your space.
By using these trending color palettes in different functional areas of your home, you'll create a visually stunning and cohesive haven for you and your family to enjoy. So go on, experiment with these exciting hues, and transform your home from average to extraordinary!
Materials and Colors
Have you ever wondered which materials and colors will dominate home decor in 2023? Look no further! Let's dive into the hottest trends and how you can revamp your living space.
In 2023, the focus is on creating a comforting and warm atmosphere with natural materials and rich colors. Wood is a popular choice for furniture and accessories, as it brings a timeless quality and warmth into any room. From dark walnut to light oak, there's a type of wood to suit every style preference.
Wicker and rattan also play a significant role in the 2023 trends for home decor. These materials bring a touch of nature indoors and add texture to your space. Use them in anything from accent chairs to decorative baskets for an effortlessly chic look.
Upholstery and rugs are essential aspects of home decor when it comes to materials, and in 2023, natural fibers are the way to go. Fabrics like linen, cotton, and wool provide a cozy and inviting touch, perfect for creating that comforting ambiance everyone seeks.
Color-wise, expect to see a shift towards earthy tones and vintage-inspired hues. Palladian Blue is one example of a color that brings earthy greens into a space, creating a soothing and calming atmosphere. Other trendy colors include warm neutrals, deep greens, and muted pinks, all contributing to a restorative and tranquil environment.
In my experience, incorporating these trending materials and colors into your home decor is an easy way to refresh your space and keep it up-to-date with the latest design trends. The key is finding the right balance and creating a cohesive look that reflects your personal style while embracing the trend. Happy decorating!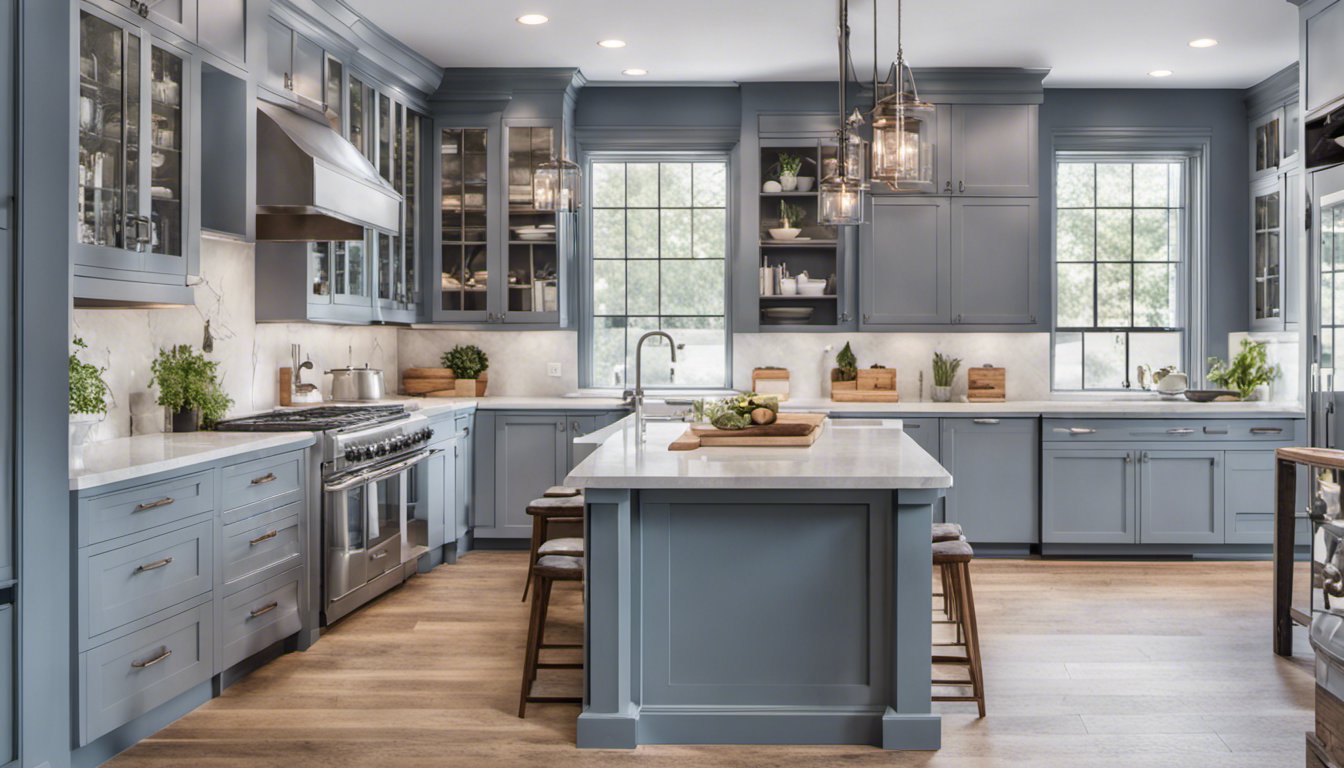 The Influence of Very Peri
Do you want to make your home stand out and stay on trend in the world of home decor? Very Peri, Pantone's Color of the Year 2022, may be the perfect answer you're looking for. In this section, we'll discuss how this vibrant hue can create a fresh atmosphere in your living space, and how you can incorporate it into your home.
Very Peri is a warm blue with a violet-red undertone that encourages personal inventiveness and creativity according to Pantone. This captivating color is an excellent scene-stealer and can be seamlessly introduced into your living space. In my experience, accents of this color worked wonders in uplifting the overall mood of interiors and are a true testament to its invigorating effect.
If you want to start small, add pops of Very Peri through decorative elements such as throw pillows, vases, or area rugs. These accents can create a stylish contrast with existing neutral furnishings, adding instant visual interest to any room. Bold and brave enthusiasts can opt for more significant changes like painting an accent wall or investing in statement furniture pieces in the Pantone color of the year.
Combining Very Peri with other on-trend colors, like earthy grays, is another excellent way to give your home a stylish update. Gray paint with soft brown undertones is predicted to dominate 2022, creating a sophisticated palette that can easily marry with Very Peri's flair. Together, these colors can set the stage for a home with a harmonious and modern ambiance.
Furthermore, integrating Very Peri into frequently used spaces, such as your bathroom, can result in a refreshed environment that elevates your daily routine. For instance, swapping out plain white towels for periwinkle ones can bring a touch of luxe and rejuvenation to your bathroom, making it an invigorating place to start your day.
Embracing Very Peri is an excellent way to revamp and reinvigorate your living space. From adding pops of color to experimenting with contrast, there are countless possibilities to introduce this lively hue into your home décor. Don't miss out on the opportunity to make your space come to life with Very Peri.
How Covid Affected Color Choices
Has Covid-19 changed how you view your surroundings? As the world shifted, people sought comfort and stability in their homes. Let's explore how the pandemic influenced color choices in home decor, creating warm and serene spaces.
The onset of Covid-19 led to a rise in demand for comforting atmosphere in our living spaces. As most people spent more time indoors, there was a desire to transform homes into calming sanctuaries. Industry experts observed a shift in color trends, leaning towards earthy tones, neutral hues, and colors offering a sense of reassurance and warmth.
One prominent trend was slow living, which emphasizes simplicity and mindfulness. In my experience, focusing on slow living led to color choices that fostered a tranquil and restorative environment. Earthy greens, soft blues, and muted browns dominated the palettes, promoting the idea of connecting with nature and creating peaceful spaces.
Moreover, the pandemic accelerated the buy local trend, encouraging homeowners to support local businesses by selecting locally-made, sustainable, and eco-friendly materials and products. This sentiment also translated into color choices, favoring hues representative of local surroundings, landscapes, and artisans.
To sum up, Covid-19 played a significant role in influencing color trends in home decor. As people prioritized comfort and well-being, the focus shifted towards soothing and nature-inspired hues, which helped create a sense of stability and relaxation within homes during these unprecedented times.
Texture and Colors
Layering textures, luxurious textiles, and eye-catching prints are taking the home decor world by storm. Get ready to elevate your space with these stunning trends that will have everyone talking. Let's dive in and explore how to master the art of texture and color in your home.
In my experience, blending various layers of texture can create a rich, inviting atmosphere. Think about incorporating diverse elements like a plush area rug, soft throw pillows, and a cozy blanket to add depth and visual interest to your living space. One way to achieve this look is by mixing materials, such as combining a metallic lamp with a wooden side table. This approach not only elevates your space with texture but also brings warmth and personality.
Don't be afraid to experiment with luxurious textiles to amp up the sophistication in your home. Velvet, silk, and suede are excellent choices for drapery, upholstery, and cushions. Choose textiles in contrasting textures, like a velvet sofa paired with silk throw pillows, to create a dynamic and stylish space. And to ensure a cohesive look, pick colors from the same palette or family. For instance, a mix of deep blues and soft grays can create a soothing ambiance.
Finally, infuse your space with character by incorporating bold prints into your home decor. Geometric patterns, abstract designs, and even classic florals can effortlessly refresh the look of your rooms. Wallpaper with modern patterns can serve as a captivating feature wall, while printed pillows and artwork can add a pop of pizzazz to your interiors. The key is to balance these bold prints with neutral tones and textures in your overall design.
Embrace the world of texture and colors in your home to create an inviting and alluring atmosphere that showcases your unique style. By incorporating layers of texture, luxurious textiles, and captivating prints, you can effortlessly transform your space and make it an unforgettable haven. Trust your instincts and have fun experimenting with these trendy approaches to home decor.
Design Inspirations and Color Choices
Ready to revamp your home decor? Well, buckle up for a sensational ride! In this section, we'll dive deep into the latest trending brand colors for home decor, exploring the design inspirations and color choices that will define the industry in 2023. Let's jump right in!
Minimalism is still holding strong as a major design inspiration. Homeowners are leaning towards colors that exude simplicity and calmness. Trending colors for 2023 include rich, restorative hues, like classic neutrals and earth tones. These choices effortlessly complement minimalistic designs, creating serene spaces to escape daily chaos.
As for Art Deco, it's making a grand comeback, infusing chic and luxurious vibes into homes. Rich and bold colors like vibrant orange-y reds are turning heads, giving a nod to the opulence and glamor of the Roaring Twenties. Raspberry Blush, in particular, is stealing the show as Benjamin Moore's 2023 Color of the Year.
Nostalgia, too, is influencing modern home decor. Retro, vintage-inspired shades are popping up everywhere, setting the stage for a walk down memory lane. In my experience, incorporating nostalgic colors like muted greens and dusty pinks can create an incredibly inviting atmosphere that evokes fond memories and cherished moments.
The beckoning call of the great outdoors has also left its mark on design trends. Earthy, nature-inspired colors are on the rise, bringing with them a touch of Zen. In 2023, homeowners are expected to favor hues like Palladian Blue that effortlessly blend earthy greens and calming blues, providing a fresh and rejuvenating feel to any room.
And when it comes to project inspiration, the creative possibilities are endless. Innovative designers are experimenting with diverse materials, sourcing inspiration from elements like mycelium, clay, fungus, and even pineapple skin. Such unconventional sources encourage homeowners to embrace bold design choices and push the boundaries of what's possible in home decor.
As you embark on your own design journey, remember that the world is your canvas. Embrace the trending brand colors and inspirations that speak to you and create a space that truly reflects your unique style and taste. Happy decorating!
Trends Predictions for the New Year
Are you ready to give your home a fresh and trendy look for 2023? Don't worry, we've got you covered! In this section, we'll explore the hottest color trends in home decor that you can't afford to miss. So, let's dive right in!
One of the dominating 2023 color trends you'll be seeing everywhere is shades of green. Green has been making its presence known, with major paint companies like Sherwin-Williams and Benjamin Moore naming it as the top color trend for the upcoming year. By incorporating various shades of green, such as sage, olive, or emerald, into your home accents and furnishings, you'll create a space that feels simultaneously contemporary and soothing.
In addition to green, vibrant orange-y reds are set to make a bold statement in homes this year. Industry experts, including those from Benjamin Moore, have identified fiery red-orange hues like Raspberry Blush as key players in 2023's color trends. These eye-catching, sunset-inspired colors will inject energy and warmth, making your space feel livelier and more inviting.
The new year also signifies a return to classic neutrals and earth tones. According to HGTV, 2023's trending colors are all about creating a comfortable, serene atmosphere. By selecting warm, neutral shades such as beige, warm gray, and muted browns, you'll craft a space that feels grounded and is easy to accessorize with bolder accent colors.
In my experience, balancing trendy colors with timeless classics is the key to building a cohesive and visually delightful home interior. For instance, you could opt for a modern, elegant farmhouse style, which seamlessly incorporates Shaker-style cabinets, vibrant green hues, and classic neutral tones. Websites like Houzz showcase real-life examples of beautiful, on-trend living spaces to get you inspired.
Now that you're armed with the knowledge of 2023's hottest color trends, it's time to get creative and add a splash of fresh, on-trend hues to your home decor. Whether you choose to go bold with orange-reds, envelop your space in earthy greens, or opt for a more classic, muted color palette, your home will be a stylish, up-to-date sanctuary that you'll love returning to each day.