So, your pool light's tripping the GFCI and you're left scratching your head, right? Well, let me tell you, you're not alone in this pickle. The good news? This guide has you covered, answering the burning question: "Why is my pool light tripping the GFCI?"
Your pool light could be tripping the GFCI due to issues like faulty wiring, an overheating bulb, water seeping into the light fixture, or a damaged thermistor. These issues can create electrical paths to the ground or cause overheating, leading to the GFCI trip.
It's crucial to safely inspect all these elements and consider professional help if needed to rectify the problem.
But don't worry – I've got you covered – from understanding the basics of GFCI to the reasons behind its tantrums, in this post, I've left no stone unturned. Time to put on that detective hat and solve this mystery once and for all.
Think it's just about a tripping GFCI? Guess again!
Things like:
What's the role of GFCI in pool light systems?
How do you reset a stubborn GFCI?
Can a bad light bulb be the culprit behind a tripping GFCI?
And oh, so much more!
So, whether you're a seasoned pool owner, a new homeowner testing the waters, or just someone who loves unraveling the whys and hows, gear up. You're about to dive into the deep end of pool light systems and GFCI.
GFCI Tripping Cause: GFCI trips due to faulty wiring, overheating bulb, water in light fixture, or a damaged thermistor.
GFCI's Role: GFCIs prevent electrocution by cutting off abnormal electrical currents.
Problem Identification: Check wiring, bulb heat, water in fixture, and thermistor condition.
Safety: Always switch off power, use insulated tools, and consider professional help.
Resetting GFCI: Turn off power, press GFCI reset button, and restore power to check.
Maintenance and Inspections: Regularly inspect system for water ingress, bulb conditions, wiring, and thermistor.
Pool Equipment Protection: All pool equipment, including lights, should be GFCI protected.
Heads up: before we get too far along here, if you want to connect with other homeowners, DIYers, and builders and get more great ideas for your home to make your space the best join my free private Facebook group, Remodel Reality here.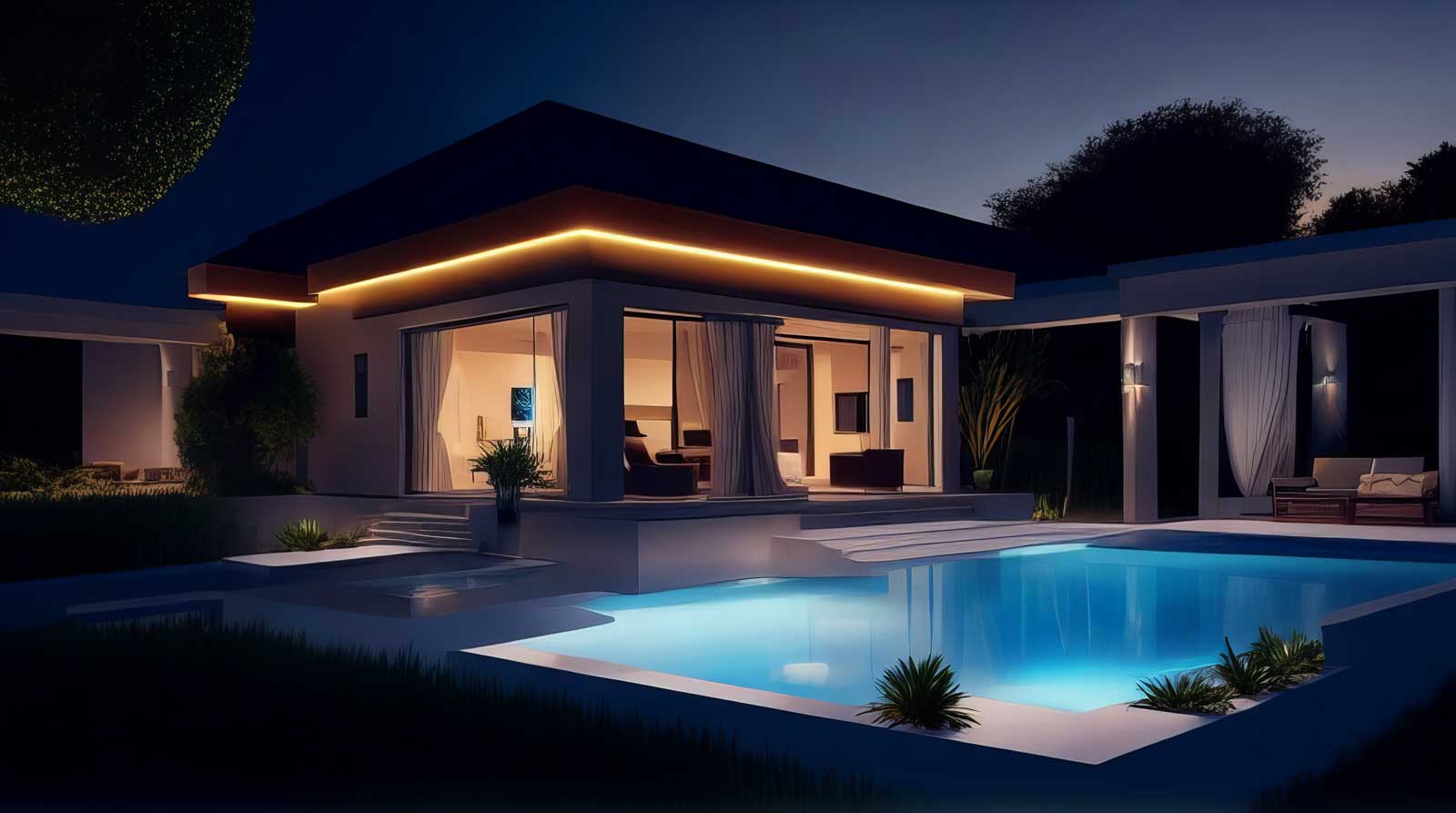 Lights Out? Unraveling the Mystery of Your Pool Light Tripping the GFCI
Why does your pool light keep tripping the GFCI? Does it have something against peaceful night swims? Let's dive deeper and untangle this enigma.
The Role of the GFCI in Pool Light Systems: The Unsung Hero
Before we jump in, let's remember: the GFCI is your pool light's secret best friend. Like a vigilant bouncer, it constantly monitors the current flowing to your pool lights. And the moment it detects a hitch, it trips, cutting off the current faster than a cat landing on its feet.
(That's right. Your pool light system and the GFCI are in a complicated relationship. It's not them, it's electricity.)
This swift action protects you and your loved ones from a potential electric shock, which could otherwise turn a leisurely swim into a dangerous situation.
In my experience, a tripping GFCI is not a bug—it's a feature. It's doing its job to keep you safe.
Unveiling the Culprits: Common Reasons for Pool Light Tripping the GFCI
So, if your GFCI keeps tripping, it's trying to tell you something. Something's wrong with your pool light system. But what could it be? Here are some usual suspects:
Faulty Wire: Just like old garden hoses, wires can crack, exposing the electrical conductors. This could cause a ground fault that makes the GFCI trip.
Overheating Bulb: If your pool light bulb is hotter than a summer day in Death Valley, it could trip the GFCI. Just like you, your pool light prefers a cool swim.
Water in Light: If water has somehow infiltrated your pool light fixture, it could be causing a ground fault. Remember, water and electricity are a worse mix than pineapple and pizza.
Damaged Thermistor: A thermistor is a type of resistor whose resistance changes with temperature. If it's damaged, it could be sending false positives and causing the GFCI to trip.
These are some of the most common reasons why your pool light might be tripping the GFCI. Don't overlook these potential issues. Your night swim by pool light show depends on it!
Dive In: Understanding Pool Light Systems and GFCI
Ready to plunge into the deep end of pool light systems? Perfect! You've come to the right place.
Pool Light Systems: A Splash of Knowledge
Pool light systems are a lot like people. They're full of electricity…err, energy. Anyway, like a human body, each part plays a critical role in overall functioning. From the light fixtures submerged in water to the wiring connecting them, everything needs to work in harmony.
(And just like that friend who won't admit they can't sing, one off-key component can ruin the whole show.)
Your pool lights aren't just there for night swims or to make your pool look like something out of a luxury resort brochure. They also play a pivotal role in safety, illuminating the water to prevent accidents.
GFCI: The Lifeguard of Your Pool Light System
Next up, let's chat about GFCI. No, it's not a government agency or a tasty type of pasta. GFCI stands for Ground Fault Circuit Interrupter. It's the unsung hero in your electrical system, leaping into action when there's an imbalance in the electrical current.
(Fun fact: I once had a GFCI that tripped so often, I named it "Clumsy." Yes, homeowners have a weird sense of humor like the commercial.)
When a GFCI detects a variation between the incoming and outgoing current, it shuts off the electricity in a fraction of a second. Why? To prevent a potential lethal shock. It's like your pool's personal lifeguard, ever watchful, and always ready to perform a life-saving intervention.
With pool equipment, GFCIs aren't just important—they're downright life-savers. Remember, water and electricity are natural enemies, like cats and vacuum cleaners.
The Real MVP: Why GFCI Is a Must in Pool Light Systems
Still with me? Good. Now let's get serious.
GFCIs are not an optional luxury like a pool heater or a floating pool bar (though, those are great, aren't they?). They're a vital necessity in preventing electrocution.
The human body is a pretty good conductor of electricity. (Not as good as copper, but hey, we try our best.) That's why you can get a shock when electrical current takes a shortcut through you. A GFCI acts as a bodyguard, sensing these shortcuts and cutting the power before that shock can become deadly.
In my experience, ensuring your pool light system has a properly installed and functioning GFCI can literally be a lifesaver. Don't skip it.
So, when it comes to pool safety and pool lights, GFCIs are the real MVP. And remember, when dealing with electricity, it's always better to be safe than singed!
Don't Get Tripped Up: A Deep Dive into Reasons for GFCI Tripping
Struggling with a pool light that keeps tripping the GFCI? It's like the universe's way of saying, "Hey, you've got a problem". But fear not, we're about to delve into the depths of this issue and illuminate the reasons why this could be happening.
Sherlock Holmes in a Speedo: How to Identify These Problems
Your GFCI isn't just tripping for the fun of it. It's trying to protect you from a possible electrical hazard. Let's dig into each possible problem that could be causing your GFCI to trip.
If you're a do-it-yourself enthusiast, I salute you. But remember, dealing with electricity isn't child's play. So, always prioritize safety when inspecting your pool light system.
Faulty Wire: Look out for signs of wear and tear on your wiring. This could be visible damage like fraying or cracks. If you're not sure, it might be time to call in a professional electrician.
Overheating Bulb: If your bulb is unusually hot or if it keeps burning out quickly, it might be overheating. Consider replacing the bulb or checking the voltage.
Water in Light: This one can be tricky. Look for condensation or visible water in the light fixture. If you find any, that's your cue to call in the pros.
Damaged Thermistor: Diagnosing a damaged thermistor isn't exactly a walk in the park. If your GFCI is tripping frequently but everything else seems fine, a faulty thermistor could be the culprit. Again, it might be time to bring in a seasoned electrician.
Danger, Will Robinson: Safety Measures while Dealing with These Problems
Remember that scene in almost every action movie where the hero nonchalantly walks away from an explosion? That's not how we deal with electrical problems.
Always turn off the power before you begin any troubleshooting. If you're not comfortable or experienced in handling electrical systems, don't hesitate to call a professional.
Keep water at bay. You don't want to mix electricity and water unless you're fond of dramatic sparks and potential hazards.
Lastly, wear protective gear. This includes gloves and safety glasses. You're not just playing electrician—you're protecting your well-being.
(In my experience, I've found it pays to invest in a multimeter. It's like a magic wand for diagnosing electrical issues. Plus, it makes you look super professional when your neighbors are watching.)
Safety first, my friend. Your pool is there for enjoyment, not to give you a shock—literally or metaphorically.
Back in Business: Mastering the Art of Resetting the Breaker
So, your GFCI tripped. Now what? No need to panic—we're about to turn that frown upside down by guiding you through the steps of resetting your breaker.
H3: Hit the Reset Button: Your Step-by-Step Guide to Resetting the GFCI
You've probably heard the saying, "If at first you don't succeed, try, try again." Resetting the GFCI is a lot like that—minus the trying part, because with these steps, you'll succeed on the first go.
Power Off: The first step is to turn off the main power supply. This might seem obvious, but you'd be surprised how easy it is to forget when you're in a rush to fix things.
Identify the Culprit: Next, find the tripped breaker. It will usually be in the "off" position or somewhere in the middle—not fully "on", not fully "off". Just like a stubborn teenager.
Reset it: Now comes the fun part. Press the breaker handle toward the "off" position first (if it's not there already). Then, flip it to the "on" position. Bam! You've just reset your GFCI.
Suit Up: Safety Precautions to Follow While Resetting the Breaker
Remember, safety first. Dealing with electricity can be dangerous if you don't take the proper precautions.
1. Power Off (Again): I know I've already said this, but it bears repeating. Always ensure that the main power supply is turned off before you start working on the breaker.
2. Rubber Gloves: Remember those rubber gloves you used to hate washing dishes with? They could be a lifesaver here. Wear them to prevent any accidental shocks.
3. Right Tools: If you need to loosen or tighten anything, make sure you're using insulated tools.
In my experience, getting shocked once was more than enough to remind me to always put safety first. So, don't rush, don't skip steps, and don't try to be a hero—this isn't a Hollywood movie set.
Remember, if your GFCI keeps tripping, it's time to call in the professionals.
Dive In: Maintenance Tips for Pool Light Systems and GFCI
Picture this: a perfect summer afternoon, you're ready to take a dip in your sparkling pool, and boom—your pool light GFCI trips. Frustrating, right? We're about to change that with some preventive maintenance tips to keep your pool light system and GFCI in tip-top shape.
The Best Offense is a Good Defense: Preventive Measures to Avoid GFCI Tripping
Prevention is always better than cure. And when it comes to GFCI, it's even more critical. Let's discuss some key preventive measures to save you from that dreaded pool light system failure.
Check for Moisture: A major culprit that trips the GFCI is moisture. Regularly check your pool light housing for signs of moisture or water leakage.
Regular Wiring Check: Old or damaged wiring can cause the GFCI to trip. Make a habit of periodically inspecting your wiring to avoid any unpleasant surprises.
Heat Management: An overheating bulb can spell disaster for your GFCI. Ensure there's adequate cooling to prevent overheating.
Your Pool's Check-Up: Regular Inspection and Maintenance Tips
Regular inspection and maintenance—sounds tedious, right? But a few minutes every few weeks can save you hours of troubleshooting later.
Check Seals and Gaskets: Inspect seals and gaskets regularly for any wear and tear. Replace them if necessary to keep water out of the lighting housing.
Clean the Pool Light: Cleaning the pool light might seem like a minor thing, but it can prevent overheating and enhance the light output.
Inspect the GFCI: Ensure the GFCI is functioning correctly. Test it using the test button, and if it fails, call a professional to take a look.
In my experience, regular maintenance can keep your pool light system and GFCI running like a well-oiled machine. Trust me, a little prevention goes a long way, and it definitely beats poolside meltdowns on a hot summer day.
Remember, when it comes to electrical systems, an ounce of prevention is worth a pound of cure.
FAQs: Shining a Light on Your GFCI Questions
Pools, lights, GFCIs—it can get confusing, right? You're swimming in questions, and it's time to dive into the answers. Let's address the most commonly asked questions about GFCIs and pool lights.
Q: Do pool lights need to be GFCI protected? A: Yes, for safety reasons, pool lights absolutely need to be GFCI protected. This helps prevent the risk of electrical shocks.
Q: Can a bad light bulb trip a GFCI? A: Yes, if the bulb is overheating or there's an electrical short, it can cause the GFCI to trip.
Q: How do I reset my GFCI pool light? A: First, ensure all safety measures are in place. Then, press the "Reset" button on the GFCI. If the problem persists, consult a professional electrician.
Q: Should lights be connected to GFCI? A: Yes, it's recommended to connect lights to GFCI to safeguard against potential electrical hazards.
Q: How do you protect a GFCI light circuit? A: Regular inspection, proper wiring, and keeping the circuit dry are key steps in protecting your GFCI light circuit.
Q: Why do my lights keep tripping my GFCI? A: This could be due to a variety of reasons—faulty wiring, a bad bulb, moisture, or an overloaded circuit.
(Personal Anecdote) In my experience, frequent tripping is a strong signal to call in a professional. It's not just about the inconvenience but safety first, folks!
Q: How do I stop my GFCI from tripping? A: Regular maintenance, correct wiring, and proper heat management can help prevent your GFCI from tripping.
Q: Can LED lights trip GFCI? A: Generally, LED lights should not trip a GFCI. However, faulty wiring or a defective bulb could cause the GFCI to trip.
Remember, when it comes to electricity, if you're unsure or the problem persists, it's best to consult a professional.
Next Steps
Want to join others who are creating the most amazing home redesigns & renovations and get more tips, tricks and hacks on how to make your home the best it can be?
Join my brand new free private Facebook group, Remodel Reality to connect with other people like you to make your space the best!