Covered patios are great additions to any home. They add value and curb appeal while providing a great space for an outdoor kitchen and protecting any outdoor furniture from weather damage.
Whether you are planning on doing it yourself or hiring a contractor to do it, this addition can be a daunting task. The first question you are probably going to want an answer to is this:
How much does it cost to build a covered patio?
Homeowners can expect to pay an average of $20 to $40 per square foot to build a covered patio, materials and labor included. The cost per square foot to build a covered patio can vary anywhere from $15 to $100 or more per square foot when combined with labor costs. The exact cost will depend on the features you want and the materials used.
The prices may be higher depending on several factors including the square feet, type of materials used, and professional installation rates. Keep in mind that the price range for an attached covered patio will be a bit cheaper compared to a freestanding structure patio.
Building a covered patio is a big project. It takes a lot of planning, materials, and labor. The good news is that you do not have to spend thousands of dollars to get started. In fact, you can build a covered porch for less than $1,000.
I have put together a list of everything you need to know before you begin building your covered porch. This includes tips on where to buy materials, how to design your deck, and even how to save money while building your porch.
By the way – before we get too far along here, if you want to connect with other homeowners and builders and get more great ideas for your home to make your space the best join my free private Facebook group, Remodel Reality here.
How much does it cost to build a covered patio per square foot?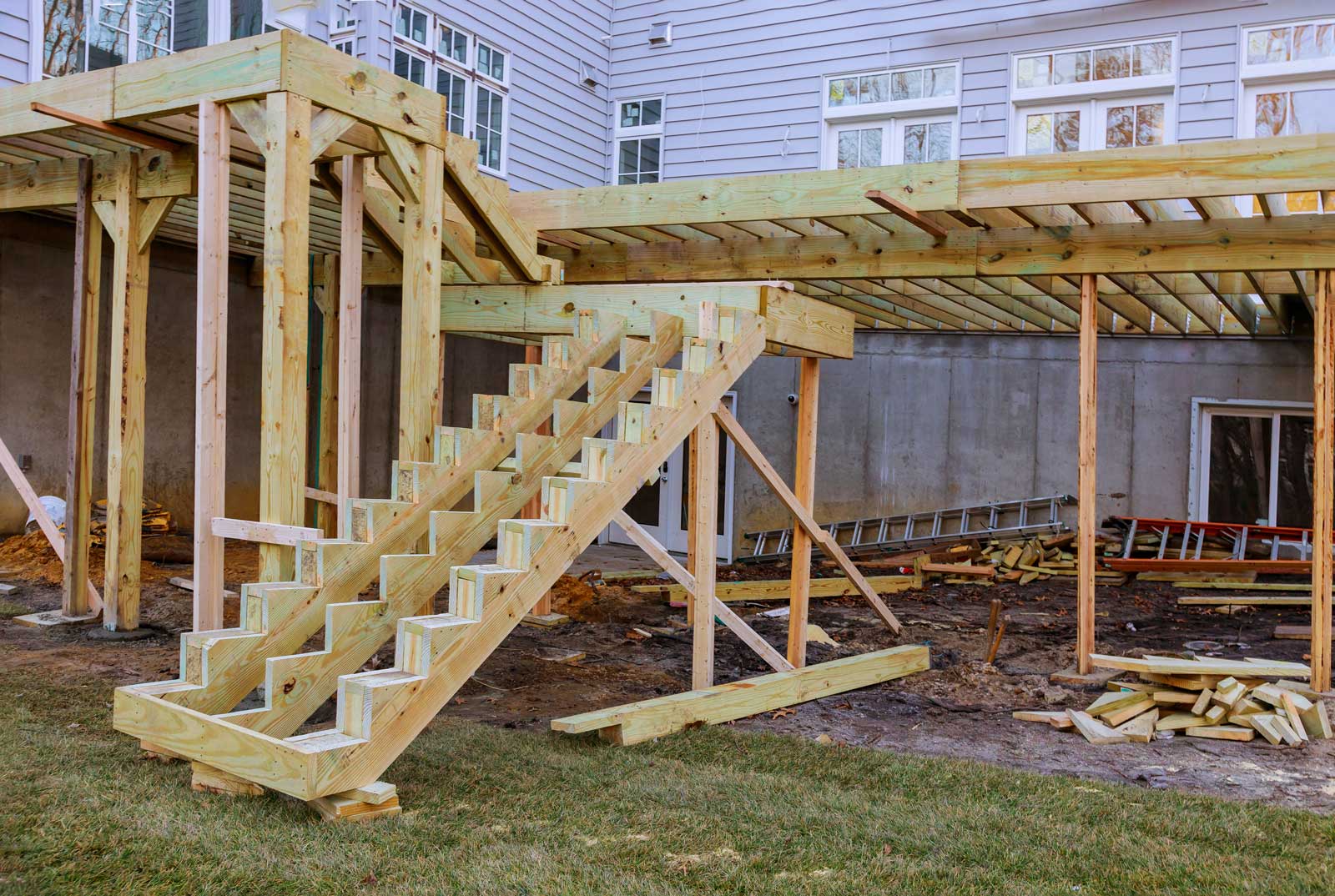 Building a covered patio, as mentioned previously will run you roughly $20 to $40 per square foot depending on the materials you use.
One of the biggest expenses that will be part of your project is what type of materials you plan on using.
Let's take a look at some examples of how much it costs to build a covered patio by the square foot depending on the type of flooring you want for your new patio:
| | | |
| --- | --- | --- |
| Type of Flooring Material Used | Average Cost Per Square Foot | Average Cost Per Project* |
| Brick | $5-$10 | $1,500-$3,000 |
| Stone | $10-$40 | $3,000-$12,000 |
| Concrete | $6-$10 | $1,800-$3,000 |
| Flagstone | $15-$30 | $4,500-$9,000 |
| Slate | $15-$40 | $4,500-$12,000 |
| Paver | $16-$25 | $4,800-$7,500 |
| Tile | $15-$20 | $4,500-$6,000 |
| Bluestone | $18-$24 | $5,400-$7,200 |
*Based on the average size of a covered patio: 300 square feet.
You may also be interested in the average cost of building a covered patio based on the type of covering you will want to install on your new patio:
| | |
| --- | --- |
| Type of Patio Coverage | Average Cost for Project |
| Sailcloth | $1,828 – $5,600 |
| Awning | $1,828 – $27,400 |
| Louvered | $6,048 – $26,100 |
| Gazebo | $9,228 – $15,400 |
| Gabled | $3,928 – $18,900 |
| Enclosed | $9,728 – $29,400 |
| Pergola | $4,228 – $11,400 |
Sometimes it is easier to look at the cost of a project priced by the square foot rather than the cost of the whole project.
I know that is the way I handled things when we were going through our remodeling process on our home.
It was easier for me to assess what each part of the project would cost us based on the square footage rather than getting a ballpark estimate of the total cost of the entire project.
In addition, it helped me see how much difference just a dollar or two in materials costs could affect the overall price of something.
How much does it cost to build a 20×20 patio?
You can expect to pay somewhere between $1900 to $6800 for a 20×20 patio. This will include your cost and materials. The size of the patio will be one of your major factors and the average price will be a bit higher. A 20×20 patio will be perfect if you are looking for a wide range of space.
The more space you have, the greater your capacity so you can have more visitors over to enjoy your new space. This also means you will need to invest in a larger patio cover, whichever type you decide on. This patio cover will help provide you with a great amount of protection from the rain.
After your new addition is finished, you will have a patio where you can relax or even enjoy company with friends or family whether it rains or shines. A 20×20 patio will be great for large outdoor living spaces.
Does a covered patio really increase the value of your house?
Absolutely. Adding a covered patio will add more value to your home. You may make a 100 percent resell value with a patio installed. The resale value can be influenced by several factors including the materials that you use to build the patio.
If you want to make that money back on your investment, it may not be worth the cost to invest in high-end materials. In all honesty, it might not make much difference in terms of increasing the resell value. For this reason, middle-range materials and finishes may be the better option going forward.
If you plan on selling your home in the future, a covered patio could be the best option for outdoor spaces. Additionally, you may still have plenty of time to enjoy it yourself if you are not in a rush to sell your home.
How much does it cost to put a roof over a patio?
The average cost for adding a roof to a patio will be $4000 to $8000 in labor costs if professionally installed. If you decide to do it yourself, you can pay anywhere from $1200 to $1400. The square footage will be factored into the installation cost if done professionally.
Designs, materials, and labor are all factors in the final price of your patio roofing. Aluminum covers will range from $9 to $32 per square foot. Wooden materials can also vary with hardwoods being more expensive than softwoods.
On the low end, cedar will run about $3 to $5 per square foot while pine and teak will be your most expensive options. Pine will be $20 to $30 per square foot while Teak will be just over double the price. While putting together a budget, it is a good idea to consider what types of covers are your best option.
What is the roof over a patio called?
The roof over a patio is called a patio cover.
Patio covering will be able to take up the entire patio. During periods of inclement weather, you can still enjoy being out on your patio and relaxing. You can even entertain guests without having to worry about the rain dampening anything.
You will also be able to have cookouts any time of the year, dry clothes outside, or grow plants. It will make a lot of things possible since you will have as much protection as you need. You can choose between one of many roof styles that will cover your patio, depending on your personal preferences.
You can install wood patio covers if you want more of a sophisticated look. Gabled roofs are great for those who would like their new covered patio to have a higher-end look. Your budget will also play a deciding role in the type of patio cover you will get, along with your personal preferences.
Weather protection includes protection from the sun and rain, and this factor will be key for deciding which patio cover you want. No matter which type of roofing material you decide to use, you are sure to get plenty of weather protection.
If you plan on spending a lot of time on your new covered patio at night time, there are plenty of lighting options available to choose from. You can have an actual light fixture installed during the construction of your covered patio. There is also the option of string lights and even lanterns or candles for a more romantic look.
Is it cheaper to build a deck or patio?
It is cheaper to build a patio compared to a deck. You will get excellent value out of it because patios will provide you with excellent privacy. Not only that, but the range of costs of materials being used will also be more cost-effective for a patio versus a deck.
Patio materials will include concrete or stone materials. Decks will consist of real pressure-treated wood materials such as redwood or cedar. Labor and maintenance rates will also be lower for patios, which is ideal if you are trying to keep things within a certain budget.
If you want a building project that doesn't require any prior paperwork such as permits or inspections, a patio will be perfect. This can be done quickly and by yourself, which is a win-win for you. If you are looking for a weekend project that you can get done without the additional hassles, a patio will be your best bet.
Is a concrete patio cheaper than a wood deck?
A concrete patio will be cheaper than a wood deck. Once again, the only type of material you will need to choose and pay for is concrete. If you are building a wood deck, solid wood will be your best option.
Concrete is more affordable compared to wood materials such as Douglas Fir or American Softwoods. A high-quality concrete brand might be your best option if you are looking for the best compressive force resistance. The quality of concrete will make a difference, so make sure you choose the best one that you can afford.
Never go for the cheapest option just to save a few dollars because you could sacrifice overall quality. Think about the benefits you will stand to lose if you do. Find the best affordable option that will provide you with the best possible benefits such as weather protection.
Another thing to consider is that if you want the concrete to be installed professionally, the labor costs will be greater than if you decide to pour the concrete yourself. You can expect the construction cost of a concrete patio to be less expensive compared to a wood deck.
Is it cheaper to lay concrete or pavers?
Poured concrete will be the cheaper option compared to concrete pavers. If you are using pavers, you can expect to pay anywhere from 10 to 15 percent more compared to the poured option. You may expect to pay somewhere between $16 to $25 per square foot for pavers compared to only $6 to $10 per square foot with regular concrete.
If you are on a budget, it is clear what your best option will be at this point, and may seem like a fairly easy decision. However, keep in mind that with additional colors and patterns, the overall material cost will go up.
Even though concrete is durable, pavers will have a bit of an edge in terms of being more durable. That is because it can withstand up to 8,000 psi compared to 2,500 psi for regular concrete. Another great benefit is that pavers will be easier to replace. If a complex design is put together, a replacement can be done professionally since doing it yourself can be a challenge.
What type of patio is best?
A concrete patio will be the best option due to its versatility. It will also be well constructed since it is a versatile material that will allow you to mold it into any kind of surface shape you want. It can be smooth, brushed, colored, or tinted, among many other options.
It can also be one of the more cost-effective options compared to brick or clay. Nothing is more simple than the combination of cement, sand, and water. If you are looking for something that will be affordable in terms of the cost of materials, a concrete patio will be an excellent option.
Brick may also be a good patio option if you are looking for a sturdy but classic look. Like concrete, it's also versatile as well. However, keep in mind that you may be paying a little bit more for brick when compared to concrete.
A gravel surface can also be helpful if you are looking to stay within a certain price range. It can also provide you with excellent drainage after a storm. Another excellent benefit you will enjoy with a gravel surface is little to no weed growth.
If low maintenance is what you're looking for, this is it. Once you have it set up, you can decorate it with outdoor furniture. You will be comfortable and relaxed, and be free to take in the scenery around you.
What is a good size for a patio?
The ideal patio size will be an average minimum of 550 square feet. This can vary on the amount of outdoor space you have and how much of that space you decide to use for your new covered patio. You may also need to take into consideration your personal needs and preferences.
If you are looking for a patio for small get-togethers, you can get away with a 10×10 patio. It will be large enough to handle at least four people. If you want to double the capacity for guests, a 12×12 patio will be an ideal option as well.
A 12×12 patio will have enough room to set up a kitchen set consisting of a round table and six chairs. The more space you have, the better off you'll feel when relaxing outdoors.
How long should I wait before installing my new patio?
You should wait until the weather is warm before you install your patio, especially if you live in regions where it gets very cold. This way, you will not have to worry about frost damage. Above all else, you do not want to do anything that could cause cracks in the concrete.
However, you do not want the concrete to dry out too quickly either. Thus, waiting until springtime is the perfect time to start building your patio.
Installing a deck is not always easy. There are many things to consider such as the location of the deck, the amount of money you plan on spending, and the type of decking you choose. Hopefully, I have helped you by making your journey to a new covered patio a little less confusing.
Next Steps
Want to join others who are creating the most amazing home redesigns & renovations and get more tips, tricks and hacks on how to make your home the best it can be?
Join my brand new free private Facebook group, Remodel Reality to connect with other people like you to make your space the best!