Outdoor flooring is a hot topic these days. People love to spend time outside enjoying nature, but the weather doesn't always cooperate. When the sun comes out, we want to enjoy our outdoor space, but when it rains, we want to stay inside.
There are many types of flooring available for outdoor areas. Some are made specifically for outdoor use while others are designed to withstand harsh weather conditions. In this article, we will go over the pros and cons of each type of flooring and help you decide which is the best choice for your home.
The best type of flooring for outdoor spaces in your home depends on a few things; your budget, your home's aesthetics, and the location. The material of the floor should fit the look of your home and of course, you want the flooring you choose to fit your budget. The top choices for most homes are hardwood, paving stones, and poured concrete.
But aside from the top choices, it will all depend on your wants and needs. So make sure you read the entire article to learn about all your best options and see how they compare to each other in terms of style, durability, price, and more.
In this post, I'll go over the options you have available to you along with the pros and cons of each type of flooring for your outdoor space and help you decide which one is the best for your home.
By the way – before we get too far along here, if you want to connect with other homeowners and builders and get more great ideas for your home to make your space the best join my free private Facebook group, Remodel Reality here.
The Best Flooring for Outdoor Areas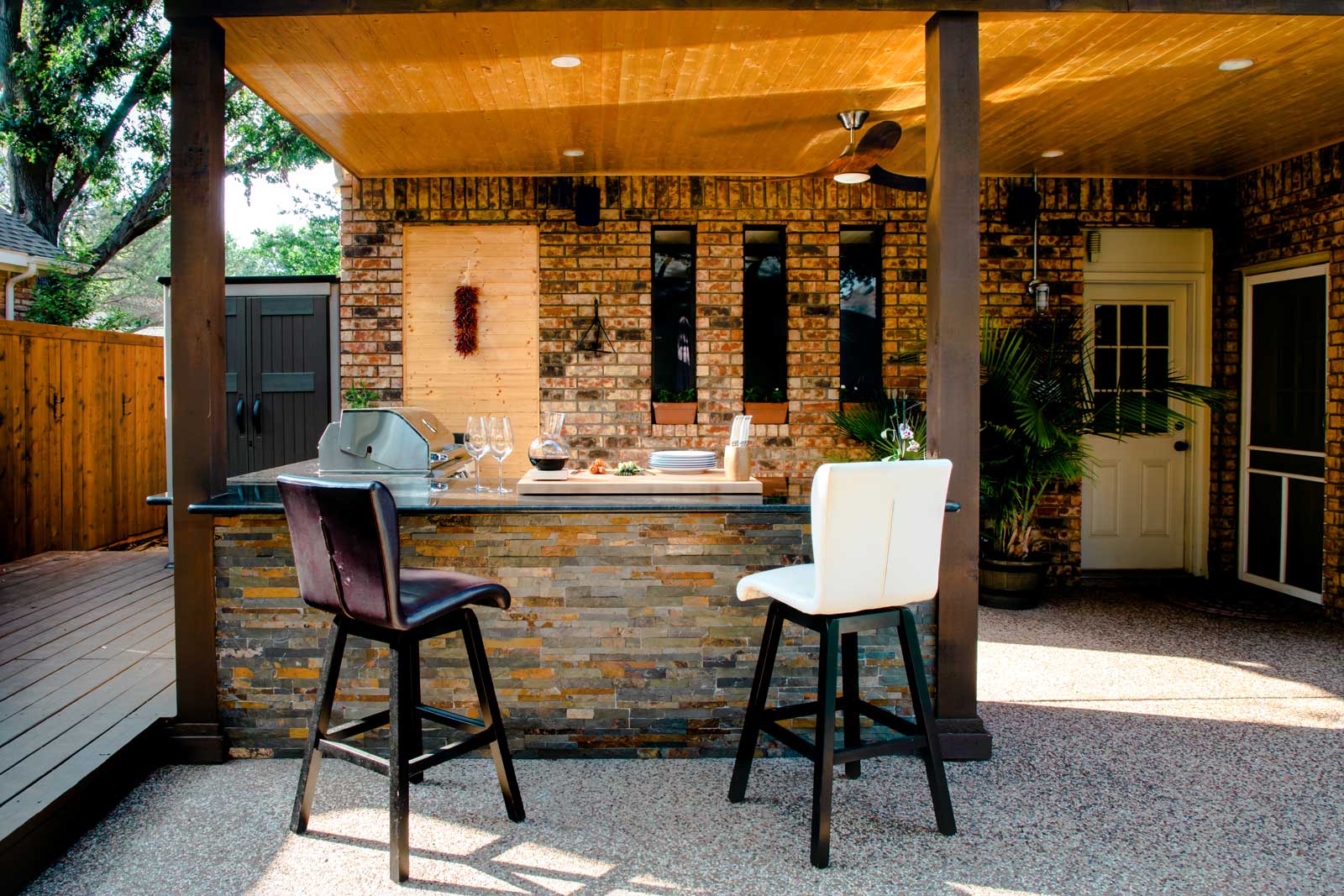 Although outdoor areas are not weatherproof, there is still a wide range of flooring options to choose from– depending on your preference, function, and budget. If you are looking for the most popular choice or choices of outdoor flooring, we will list down your best options, including natural stone, ceramic tile, natural wood, composite wood decking, outdoor carpet, and many more.
The best outdoor flooring option for you might be one of the choices below:
Hardwood or Natural Wood Floors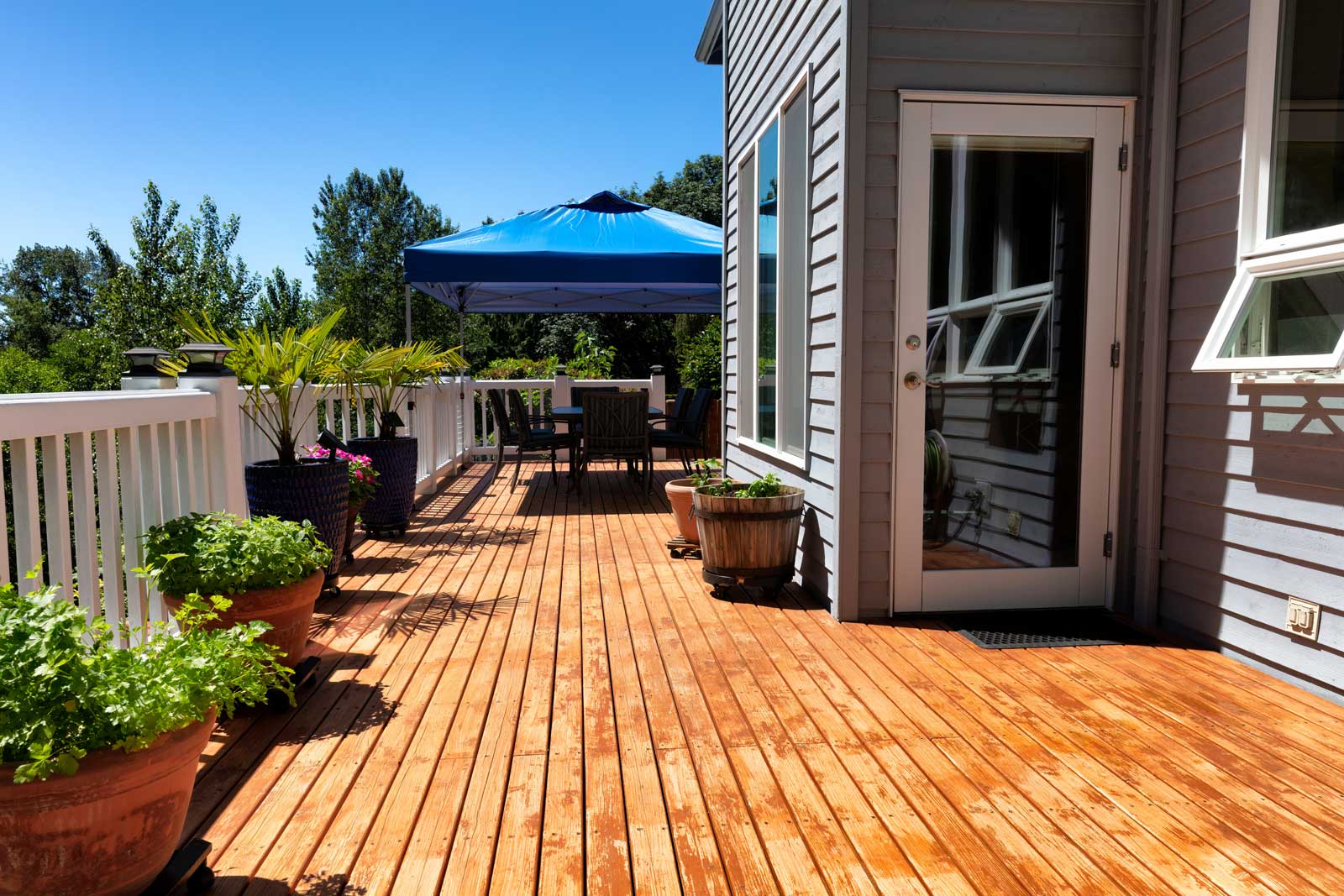 Natural wood floors or hardwood floors are the most timeless and traditional options. Although they are not ideal for outdoor areas because they can get wet and get damaged by moisture– you have the option to get natural wood treated to make sure they hold up against extreme weather conditions.
Natural wood flooring makes an excellent flooring option if you are looking to create an elegant and classic American-style outdoor patio or backyard. Some of the common wood types used when using hardwood floors are:
Cypress
Redwood
Western Red Cedar
Pine
Hardwood floors pros and cons
Like all flooring options, each option has its own set of advantages and disadvantages. Here is a list of pros and cons if you plan on choosing hardwood floors for your outdoor deck and other areas surrounding your house:
| | |
| --- | --- |
| Pros: | Cons: |
| Easy to install | Needs to be treated |
| Classic rustic look | Not weather resistant and not the best for wet areas |
| Elegant | Not very durable when outdoors |
| Range of cheap to expensive options | requires consistent maintenance such as cleaning, polishing, and staining |
Best areas for hardwood floors
Hardwood floors and traditional wood decking flooring options are the most common type of flooring used for outdoor decks. Although they are not suitable for pool decks, they make an excellent option for hot tub decks for outdoor use.
Brick Pavers
You can rarely go wrong with natural brick flooring. It is a durable option with a rustic look. Although they aren't as popular or as affordable as poured concrete– there is something about the aesthetic that brick pavers contribute to the outdoor areas surrounding your home. They are excellent for farmhouses and rustic-style cottages. However, if you choose the right design and style of bricks, they might even work for modern homes as well.
The best thing about brick pavers, aside from being classy and stylish, is their exceptional durability compared to most flooring types. If you are looking for a dependable option that requires less maintenance, brick outdoor flooring will make an excellent choice.
Brick pavers pros and cons
Here are some of the pros and cons you should expect if you choose brick flooring for your outdoor areas.
| | |
| --- | --- |
| Pros: | Cons: |
| Cost-effective in terms of durability | Limited design choices |
| Brick outdoor flooring options can last up to a lifetime | Quite difficult to replace or repair when they break |
| They are slip resistant | Not for all outdoor areas |
| They retain heat well | The hard surface can be uncomfortable to walk on |
| Bricks are an environmentally-friendly flooring option | Bricks retain water which can cause mold and mildew |
| Easy to maintain | When worn out over time, the floors can get uneven |
Best areas for brick pavers
Brick pavers make a fantastic choice for outdoor kitchens and gardens. You can even use them for making an outdoor fire pit or pizza oven– creating an outdoor space where you, your friends, and your family can hang out in the backyard.
Concrete Pavers (Natural Stones)
Concrete pavers or natural stones might be expensive, but they can raise the value of your home and give your outdoor space an elegant and luxurious upgrade. There is just something about natural stone flooring that screams elegance, which would impress your friends, relatives, and anyone who will give your home a visit.
Although natural stone patios are way more expensive than a poured concrete patio or concrete slabs– you can save money if you choose stone flooring that is sourced from the local landscape in your area. It will save you a ton in transportation costs, it will lessen fuel emissions, and you will be helping local suppliers. Natural stone when sourced from the same place can give your outdoor area a cohesive look that is very pleasing to look at.
Concrete pavers pros and cons
When searching for outdoor flooring idea options, it is best to look at the pros and cons of each choice. Here is what to expect with stone flooring:
| | |
| --- | --- |
| Pros: | Cons: |
| There is a wide range of design choices | Expensive |
| easier to replace when damaged | Need to find the right fit when replacing |
| Easy to install | Weeds can grow through the open spaces |
| Unlike poured concrete, natural stones don't need curing | It becomes uneven over time |
| Elegant and classy | They require a solid base |
| Stain and slip-resistant | Requires regular cleaning and maintenance |
| Resistant to fire and water corrosion | |
| One of the most durable options | |
Best areas for concrete pavers
Concrete pavers give a classic and modern look, depending on the styles you choose and the execution. They are a common option for outdoor patios. However, with a little bit of creativity– you can create a very unique patio or backyard landscape with the use of concrete pavers.
Ceramic Tile Flooring
Ceramic tiles are the most versatile and low-maintenance option for your outdoor living space. Outdoor tiles have a ton of color options that will definitely fit your preference. Compared to wood floors, exterior tiles is better if you live in an area where it rains a lot and experiences extreme moisture and tough weather conditions. Plus, ceramic tiles are one of the most inexpensive outdoor flooring materials.
Compared to stone or hardwood, tiles are quite more affordable. When it comes to tile vs. laminate wood– tiles are more durable. So expect your outdoor ceramic tiles to last longer than other floor types. But it goes without saying that you need to maintain them to ensure their longevity. Just remember, that if you are going to do some DIY work on your outdoor ceramic tiles, make sure to properly install them to ensure their longevity.
Ceramic flooring pros and cons
Different types of flooring have their own set of pros and cons. And even if tiles are cost-efficient and have so many style choices, there are still some disadvantages. Here are the pros and cons of choosing ceramic tiles for your outdoor areas:
| | |
| --- | --- |
| Pros: | Cons: |
| Easy to clean and maintain | Some choices can be slippery |
| Can last a long time, especially in a warmer climate | Not for all home styles |
| Some people can install tiles themselves | Prone to cracks |
| A wide variety of colors and style choices | prone to mold when not regularly cleaned |
| Inexpensive | Not the best for low-temperature areas |
Best areas for ceramic floors
Outdoor ceramic tiles make great options for backyard outdoor kitchens or outdoor showers and for designing pool sides. However, ceramic tiles are not recommended for areas where kids will be running and playing, but because they are easy to clean, you can install them in high-traffic areas.
Porcelain Tile Flooring
If you are looking for a modern look without compromising durability, porcelain flooring is exceptionally one of the most durable types of flooring for flat surface outdoor areas. Note that porcelain floors are a high-end option that is going to cost a lot of money. Plus, porcelain is a lot more challenging to install, so you will need a professional to handle the job for you.
Porcelain is a low-maintenance flooring option. Its natural texture makes it a lot less slippery and durable even in drier climates, hot climates, and harsh weather conditions.
Porcelain flooring pros and cons
Here is a list of pros and cons for porcelain flooring:
| | |
| --- | --- |
| Pros: | Cons: |
| Weather-resistant | A little bit heavier than ceramic tiles |
| Low maintenance | Expensive |
| Easy to clean | It cannot be installed by yourself without professional tools |
| Not slippery | Installation could be expensive |
| A lot of good style choices | |
| lighter than paving stone and concrete tiles and slabs | |
Best areas for porcelain flooring
Because porcelain is the most durable option for outdoor use, you can use it for almost any outdoor area, including your patio, backyard, outdoor kitchen, and more.
Composite Decking
Composite decking is a long-lasting alternative to hardwood floors. If you are looking for a more durable alternative to hardwood, composite flooring makes an excellent option that can give your outdoor areas a gorgeous wood-style makeover.
Although it is not real wood, it does an excellent job of appearing as if they are real hardwood floors. Composite deck tiles are made of thermoplastic resins, super-fine sawdust, recycled materials, and wood fiber– which gives them a hardwood look without compromising their durability. Unlike natural wood decking, composite decks do not splinter. Plus they are durable enough for outdoor flooring, resisting the harshest of weather conditions.
Composite wood decking pros and cons
| | |
| --- | --- |
| Pros: | Cons: |
| Durable | More expensive than wood |
| Eco-friendly option | Not natural wood |
| Many color options | |
| Easy to install | |
Best areas for composite wood decking
You can install composite decks in any outdoor area. Thanks to its durability, homeowners can place them in areas that get wet, areas exposed to high temperatures, and more.
Vinyl Tiles
Outdoor vinyl flooring is probably the easiest to install. They are made out of synthetic materials which are durable and water-resistant. In addition, vinyl tiles are easy to clean. However, they won't appear as natural as brick, natural stones, or composite deck flooring.
Vinyl tiles pros and cons
| | |
| --- | --- |
| Pros: | Cons: |
| Resistant to stains and scratches | Cannot support heavy traffic and weight |
| Highly durable | Not for high-temperature areas |
| Weather-resistant | You can only use them for covered areas |
| Comes in different shapes (sheets and planks) | |
| Easy installation | |
Best areas for vinyl tiles
Since vinyl tiles can only be used in enclosed or covered outdoor areas, they are great for outdoor patios and covered pool areas, and outdoor kitchens. If the temperature gets too high due to direct sunlight, vinyl tiles are not the best choice.
Poured Concrete Flooring
Concrete is a timeless choice for outdoor flooring. Whether it's poured concrete all the way or slabs for your concrete patio, mixed with artificial grass, pea gravel, and other landscape design flooring elements– you can seldom go working with this classic flooring type.
In case you are wondering why– concrete flooring is inexpensive, easy to maintain, and one of the most commonly used for outdoor flooring. If you are planning on using concrete, you can even give it an aesthetic boost with ceramic coating, which makes it a lot easier to clean.
Poured concrete flooring pros and cons
| | |
| --- | --- |
| Pros: | Cons: |
| Affordable option | Hard uncomfortable surface |
| It can last a lifetime | Difficult to repair when damaged |
| Easy to maintain | Needs curing |
| Resistant to fire and water corrosion | Loud when walked on |
| Slip-resistant | Prone to mold and mildew if not sealed properly |
Best areas for poured concrete flooring
Concrete flooring is a versatile option for patios, driveways, walkways, garages, outdoor landscapes, and more. Although they are cheaper than most options like natural stone or bricks– concrete can be as versatile as those options when cured and installed properly.
Other options
Aside from the options mentioned above. There are more flooring options you can choose, depending on the outdoor area of your home. The following materials are excellent for mixing it up with different materials to achieve the aesthetic you are going for.
Pea gravel
Pea gravel is an excellent option to fill every cubic yard of your outdoor space. It adds curb appeal and variety to your outdoor areas. Plus, pea gravel might be the cheapest option. However, pea gravel is not recommended for areas with high traffic.
Outdoor carpet
The outdoor carpet might not be common in most homes. But if you are trying to make your front porch or any covered area in your home feel more homey and warm– Outdoor carpet will make an elegant choice.
Artificial grass
Artificial grass is a more durable and easier to maintain alternative to natural grass. If you are going for a green look, artificial grass, together with ground cover plants will make your backyard or garden feel more soothing and natural.
Rubber tiles
Rubber tiles or rubber pavers make an inexpensive and excellent option for kids' outdoor playing areas. Because of its shock absorption and other safe qualities– rubber tiles is the best choice if you have kids.
Durability Comparison Table
| | | |
| --- | --- | --- |
| Flooring Type | Heat Resistant | Water Resistant |
| Hardwood | Yes | No |
| Concrete | Yes | Yes |
| Rubber | Yes | Yes |
| Vinyl | No | Yes |
| Composite | No | Yes |
| Porcelain | Yes | Yes |
| Ceramic Tiles | Yes | Yes |
What is the Most Durable Type of Flooring?
Each type of flooring is durable in its way. It will depend on the outdoor area and geographical location. For covered areas, hardwood and vinyl will make a good choice. For more weather-resistant options, you want to choose something like composited decks or poured concrete.
What is the Best Type of Flooring for an Outdoor Patio?
Outdoor patios are not always covered, which is why the best type of flooring would be something resistant to rain and extreme heat, such as poured concrete, natural stone, or porcelain tiles.
Which is the Least Slippery Type of Flooring?
Vinyl, composite decks, rubber tiles, and poured concrete are the least slippery flooring types for outdoor use. Ceramic tiles, porcelain, and other materials might not be the best if you have a lot of kids running around the outdoor areas.
What Flooring Does Not Fade in the Sun?
Treated hardwood floors are probably the most sun-resistant option for your outdoor flooring. However, they may be heat-resistant– hardwood floors are not very water-resistant and they could get damaged when exposed to wet areas and extreme wet conditions. If you live in dry areas that experience extreme heat conditions– do not choose vinyl or outdoor carpets. Otherwise, you will get disappointed if they quickly fade.
What is the Cheapest Outdoor Flooring Option?
Vinyl sheets might be the cheapest option in the market, as you can get them for around $0.50 to $2 per square foot. The most expensive options, on the other hand, are porcelain tiles, composite wood, and natural stones.
What Flooring is 100% Waterproof?
Vinyl tiles are the most waterproof option if you live in wet areas. However, they might do well against water, but they do not do well against being exposed to heat.
Next Steps
Want to join others who are creating the most amazing home redesigns & renovations and get more tips, tricks and hacks on how to make your home the best it can be?
Join my brand new free private Facebook group, Remodel Reality to connect with other people like you to make your space the best!