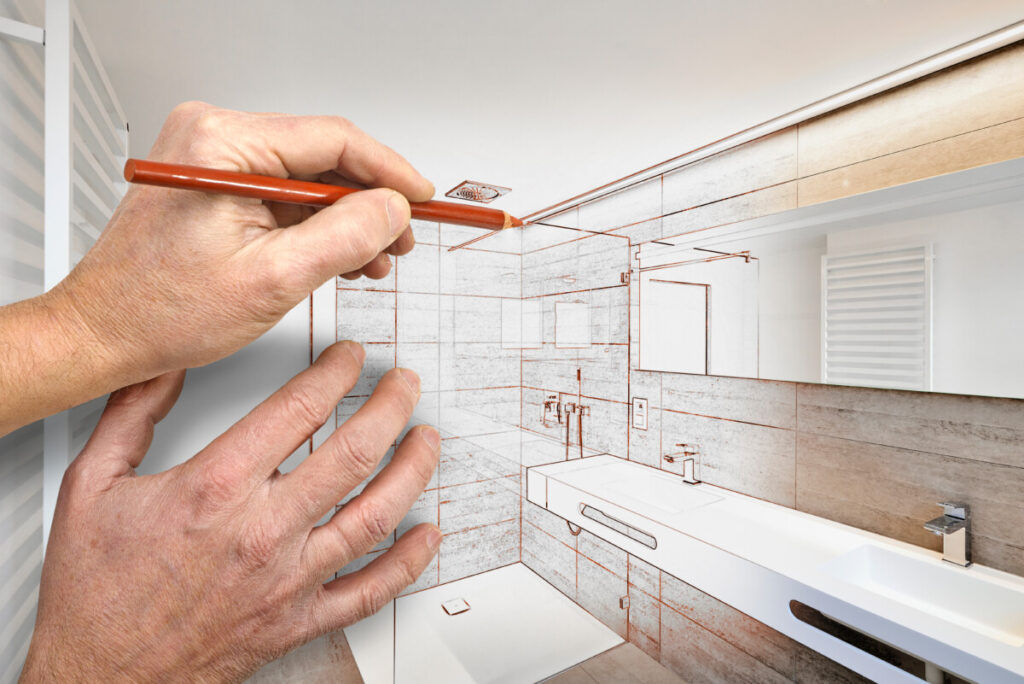 Picture this: You've found your dream home and every detail is perfect–except for the bathroom. Not only is it small, but looks outdated and doesn't match the rest of the house. What can you do
Remodeling a small bathroom can be difficult, but you should try to do as much as you can on your own. This will decrease the cost of the remodel. Other things that can be done are to adding new hardware/appliances, replacing the lights, and finding energy-efficient products.
Remodeling a bathroom doesn't have to cost a fortune. With simple, affordable adjustments you can turn your tiny toilet closet into a miniature spa. Keep reading to find out how to remodel a small bathroom on a budget!
By the way – before we get too far along here, if you want to connect with other homeowners and builders and get more great ideas for your home to make your space the best join my free private Facebook group, Remodel Reality here.
1. Do as Much by Yourself
There's a reason why DIY projects are so popular. It's because they allow homeowners to do much more, for way less! One of the most expensive parts of a remodel project is labor. Contractors tend to charge an arm and a leg for what seems like a minuscule task.
While a remodel project might seem a little daunting, with some minor guidance you could become just as good as the pros. That said, any electrical or complicated plumbing should be left to the experts.
So what DIY bathroom remodel projects can you do? First, you could do all the painting yourself. Painting isn't a difficult task. Better yet, a little paint touch-up could significantly improve how your bathroom looks. If your bathroom is on the smaller side, steer towards lighter colors. Darker hues will make the bathroom feel smaller.
All you need is a paint roller, a paint tray, and some paint in your preferred color. Paint one coat and then let it dry for several hours before attempting to start the second coat. Consider using masking tape around the edges to get that professional quality.
Another project that is simple enough that you could do it yourself is installing the toilet; it's not as complicated as you might think. Watch the following video to learn just how easy installing a toilet on your own is!
If there's a project you feel comfortable doing during your bathroom remodel, do it! It could save you thousands of dollars.
2. Add New Hardware
If you had to pick one item in the bathroom that made it feel dated, you'd probably choose the cabinet hardware or sink fixtures. Updating these can improve the overall look and feel of your bathroom.
When choosing cabinet hardware and faucet fixtures, you should consider replacing any other metal items in the bathroom too. This includes the door handle, the showerhead, the bath faucet, the towel rack, and the toilet paper holder. Try to keep the color and style consistent for each of these items. For example, if your toilet handle is black, your sink and shower fixtures should be black too. This will make the bathroom feel more cohesive and high class.
You could also consider doing a two-tone fixture arrangement. While your plumbing fixture and door handle could be all black, your cabinet hardware and towel racks could all be matte gold. Spend some time at a local hardware store comparing different hardware and fixture combinations to find one that best matches your desired style. Whatever you do, avoid the classic chrome fixtures.
When selecting your hardware and fixtures, don't settle for the cheapest or the most expensive options. Find a happy middle ground that uses quality materials at an affordable price.
3. Swap the Light Fixtures
Like the cabinet hardware, your light fixtures could make your bathroom look extremely dated. A simple switch could make the difference that your bathroom needs.
For most lighting set-ups, this is something you could do by yourself. However, keep in mind that the light should always be off while you're swapping the fixture. And if the project requires more wiring than you know how to do, call a professional.
Make sure your lighting fixtures match the style and color of the sink and cabinet hardware you chose earlier. Cohesiveness matters!
You should consider switching your lightbulb at this point as well. If your bathroom currently uses a yellow-tinted lightbulb, switch to a more natural colored white bulb. This will make your bathroom feel more modern.
4. Use Energy/Water Efficient Materials
If you want to save money on a bathroom remodel, the best way to do that is by switching to energy and water-efficient materials. When you think about the water bill, you probably don't realize how much money your bathroom lights, faucets, and toilet waste.
You may not see immediate savings results from this bathroom update idea; however, the savings will add up over time.
Need help finding some amazing energy/water efficient materials for your bathroom update? Check out the following items for your remodel:
American Standard Dual Flush 2-Piece WaterSense Toilet
So many toilets, especially older ones, use way too much water to flush. By purchasing a newer toilet with a smaller flush capacity, you could watch your water bill drastically decrease. With a dual flush toilet, you could save even more money by using the maximum flush capacity when it's needed and using a smaller amount when it's not.
The American Standard Dual Flush 2-Piece WaterSense Toilet costs around $300 from Lowes, but could save you a significant amount in the long run.
Natalya Bubble Acrylic Wall Sconce
Even your light fixtures can be more energy efficient. This Natalya Bubble Acrylic Wall Sconce has a modern feel without a high price tag. This LED light fixture costs $130 from Lamps Plus and shouldn't need replacing for several decades.
5. Purchase Pre-Fabricated Vanity Sets
While a custom-built vanity set is guaranteed to up the value of your home, a high-quality pre-fabricated vanity set could cost you a fraction of the price.
Pre-fabricated vanity sets don't have to look cheap either. Take a look at the following vanity sets perfect for a small bathroom remodel.
LILLÅNGEN by Ikea
Sometimes, a large bathroom vanity takes up too much space in a small bathroom. A smaller vanity like the Lillangen vanity from Ikea, which costs $254, is the perfect smaller vanity option. It even includes a mirror/medicine cabinet to improve the storage options in your bathroom.
Haven Bath Vanity with Granite Top in Midnight Black
The Haven Bath Vanity has a black vanity top to create a stark contrast from its white base. It is 24 inches wide allowing it to fit into almost every tiny bathroom. The Haven Bath Vanity costs $379 and comes entirely pre-fabricated. This will save you in terms of installation costs.
If you have an old dresser, you could even repurpose it to be your new bathroom vanity. This is an excellent way to cut costs.
Next Steps
Want to join others who are creating the most amazing home redesigns & renovations and get more tips, tricks and hacks on how to make your home the best it can be?
Join my brand new free private Facebook group, Remodel Reality to connect with other people like you to make your space the best!